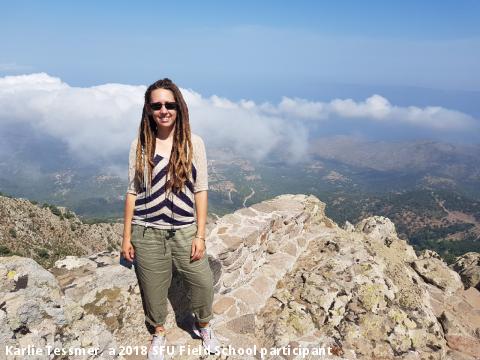 Is Greece on your bucket list for 2019? SFU's Hellenic Studies Program has partnered with Douglas College to bring a group of lucky undergraduate students to Greece for a field school in May and June 2019.
Students will spend three days in the Greek capital of Athens, home of democracy, philosophy, and theatre. Athens is home to some of the world's richest museums and is the site of the Acropolis, Parthenon, and Acropolis Museum, where ideas of democratic sovereignty, imperialism, classicism, and cultural appropriation can be fruitfully explored.
Students will then travel to the Aegean island of Lesvos, where they will stay for three and a half weeks. The island of Lesvos is the third largest in Greece and has played host to important developments in Greek history and culture since antiquity.
Finally, students will journey to Greece's fascinating northern capital, Thessaloniki, for the final few days of the field school. Participants will interact with its landscapes, people, and monuments and enrich their understanding of our world at the edge of Europe, where East and West merge to create the heady mix of Greek culture.
"I am profoundly touched by the experience I had in Greece. Whether it was in the classroom, on a field trip, or adventures during our free time, the experience connected me with history in a way I never thought possible. It challenged me mentally, physically and emotionally," says Karlie Tessmer, a 2018 SFU Field School participant.
In addition to Greece, SFU's Field Schools include Amsterdam, France, Greece, Prague, and Scotland.
Links: