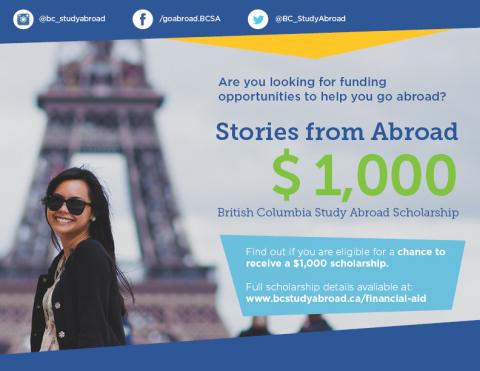 Following our last 2017 Stories from Abroad: British Columbia Study Abroad Scholarship winners announcement, we are now delighted to congratulate our next group of winners who will soon embark on their study abroad journey! 
This year we have a record number of eleven winners selected from various BC institutions and each student will recieve $1,000.
Our winners will be posting about their experiences, so be sure to check out our student blog section regularly to read about their stories from abroad!
Congratulations to:  
Alice (Ruo Ran) Wang, Kwantlen Polytechnic University
As a former life sciences student, Alice discovered the discipline of art history during her search for a more humanist approach to studying behaviors. In addition to pairing down individuals to molecules, she wanted to extrapolate from individuals a creative representation of their social conditions. As such, she is thrilled to have received the BCSA Scholarship in support of her study abroad program with Kwantlen Polytechnic University. She will be studying modern and contemporary art in France and Germany, an international research opportunity that will be instrumental to her personal, scholarly, and professional growth.
Kathleen Harfman, College of New Caledonia
Kathleen was born and raised in Prince George, BC and is 23 years old. She loves the outdoors and enjoys cross-country biking, hiking, skiing, and snowshoeing in her free time. She is also an avid rider, training and competing in show jumping. She is passionate about the environment, animals, and enjoys serving other people. She is currently finishing her second year of studies at the College of New Caledonia in Natural Resource and Environmental Technology. Kathleen is looking forward to the natural resource and environmental technology field school in Ecuador she will be attending this spring. She plans to become a Registered Forest Technologist after graduation. 
Lenelle Jordan Kutzner, University of Victoria
Lenelle is a second-year student at the University of Victoria who, since a young age has had a fascination with languages and communication. She revels at the incredible faculty of language that humans possess, and desires to expand her own linguistic capabilities by becoming fluent in various foreign languages. She is currently studying French, Spanish, and German, however she hopes to broaden her studies to other languages such as Russian and Mandarin. Lenelle will be going on her first of several study-abroad programs, starting in Germany, then later this year going to Spain. Through these international opportunities, she hopes to gain a deeper understanding of the inherent link between language and culture that simply cannot be taught in a classroom. 
Sean Paul Veltmeyer, Langara College 
Sean grew up in Northern BC, spending his first years in Hazelton, and then Terrace. When he was 16 he moved to Coquitlam where he graduated high school. Since then he has lived around the lower mainland; first, briefly, studying engineering at UBC, then working various jobs in manufacturing. He is now studying History at Langara. In his free time Sean is an avid reader of both history and fiction. He is also a health and fitness enthusiast who loves rock climbing, hiking and eating vegetarian food.
If you are interested in our Stories from Abroad Scholarship, be sure to visit our Financial Aid section for more information!