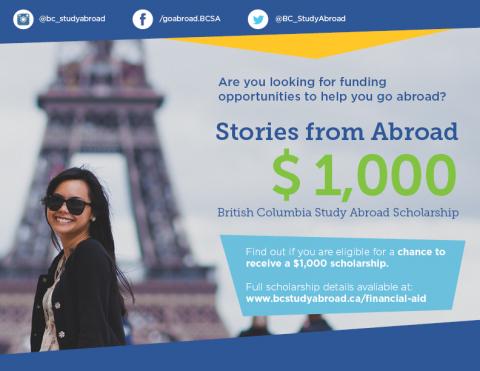 We are pleased to announce the winners of the 2017 Stories from Abroad: British Columbia Study Abroad Scholarship! This year we have a record number of eleven winners selected from various BC institutions. 
Each student will be receiving $1,000.
Read about our winners who are currently abroad below, and stay tuned to see our announcement of our next group of winners who will begin their study abroad experience later in 2017!
All of our winners will be posting their stories from abroad, so be sure to check out our student blog section regularly to read about their adventures! 
Congratulations to:  
Cheryl Olvera, Simon Fraser University
Cheryl is a mature student in her 3rd year of the BFA Music Composition degree program at Simon Fraser University (SFU) in Vancouver. She is a singer and emerging composer originally from Edmonton, AB and holds a Music Diploma in Voice Performance from Red Deer College, AB. Cheryl has dabbled in everything from fitness to construction in between her post secondary pursuits, but could not deny music as her true passion. With a lifelong dream to travel and experience the fine arts culture of other countries, Cheryl is extremely excited to be studying at the University of Sussex in Brighton, U.K. this semester. 
Gigi (On Yee) Lin, Simon Fraser University
Hailing from Canada's West Coast, SFU-er Gigi currently studies abroad at the University of Bath in the United Kingdom.
She is one who desires to be a global citizen: developing quality skills under the wings of a world-renowned Business faculty and creating inter-cultural connections while exploring 10+ countries within the span of 4 months. As someone who loves to challenge herself academically, mentally, and physically, she sees academic exchange as the cherry on top of a sweet degree. Her checklist for each newly conquered European city consists of devouring beautiful mountains, photographing stunning cathedrals, and most of all- biking along their beautiful shorelines.
Janna Wale, Thompson Rivers University
Janna is a 3rd year Natural Resource Sciences student at Thompson Rivers University studying abroad in Inverness, Scotland. She chose the University of the Highlands and the Islands for the rich history from the past and the culture that is present in every day life in the Scottish Highlands, as well as the stunning landscapes. While on exchange, Janna plans on experiencing as much of Scotland and the United Kingdom as possible. Between essays and assignments, she enjoys being outdoors (even in the rain) and reading historical fiction. 
Katlyn Bieber, Thompson Rivers University
Katlyn Bieber is a Biology student at Thompson Rivers University in Kamloops, BC. She's always had a passion for travelling and is currently studying abroad in Graz, Austria. She had a desire to study abroad in Europe because of the many travel opportunities that it offers. Graz is the capital city of the southern Austrian province Styria, with a population of about 270,000 people. While living in Graz, she has met many new friends from around the world and is also taking the opportunity to learn German. She has been fortunate to do some exploring in Austria's neighbouring countries; so far having visited Slovakia, Slovenia, Italy, and Croatia, and is planning on visiting Bern, Switzerland and France during her Easter break in April.
Mariam Ali, Simon Fraser University
Mariam Ali is a third-year student currently abroad at IEP de Strasbourg in France. She is part of the French Cohort Program at SFU, where she is doing a major in Political Science and an extended minor in French. Mariam came to Strasbourg to improve her French, enjoy its Franco-German culture, gain access to its many European institutions and learn more about Europe in general. One of the most rewarding aspects of Mariam's exchange is making friends with people from around the world. She enjoys learning languages, reading and spending time with friends. She has an insatiable curiosity for the world around her and is always planning new adventures.
Matthew Hoogwoud, Kwantlen Polytechnic University
Matthew Hoogwoud is a Kwantlen Polytechnic University student, aspiring to become an English teacher. He loves to read, play games, and see new places. He is constantly pushing himself to be the best person he can become, and he tries to step away from his comfort zone as often as he can. He loves to write and create stories, and secretly hopes one day to write a book and get it published. Matthew is an easygoing person, and looks forward to new experiences. 
Peter Mate, Fairleigh Dickinson University (Vancouver Campus)
Peter Mate was born in Williams Lake, BC on 1996. A first Generation Canadian of Filipino and Hungarian Descent, he moved to Surrey in 2007 to receive his primary education. After graduating high school in 2014, he enrolled at Fairleigh Dickinson Universities Vancouver Campus to study International Relations and Communications. During his studies, he's participated in Model United Nations conferences in South Korea and New York. Moreover, he spent several months in New York perusing a Public Relations internship in Manhattans Lower East Side. Due to his passion over irregular migration, he chose to study at Central European University to understand how migration affects Central Europe. As such, he hopes to pursue a legal career in Human Rights and Humanitarian affairs. 
If you are interested in our Stories from Abroad Scholarship, be sure to visit our Financial Aid section for more information!