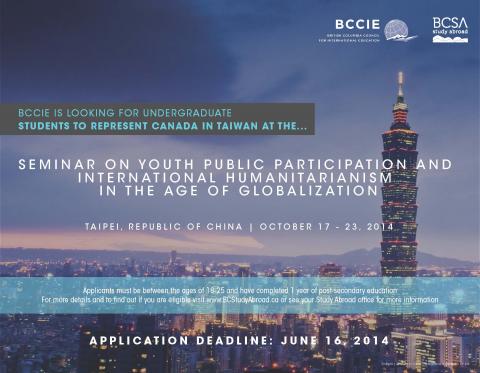 BCCIE is working in partnership with the Taiwanese Youth Development Administration in Taiwan's Ministry Of Education to send up to seven (7) BC post-secondary students to attend the Seminar on Youth Public Participation and International Humanitarianism in the Age of Globalization  in Taipei from October 17th-23rd, 2014
The selected students will represent Canada in a series of activities including:
In-depth seminar discussions

Experience-sharing in "world café" mode

Visits to a youth organization and a youth travel spot

Participation in Canada's cultural performance to be performed at the Seminar Farewell dinner

The submission of one 200-300 word blog post about their experiences in Taiwan including a photo from their trip due two weeks after their return home
In order to be eligible students must:
Be between 18 and 25 years of age

Have completed 1 year of post-secondary education in BC

Demonstrate experience in public participation, international humanitarianism or voluntary service
Please note that we will work to encourage regional representation within this initiative and will take this into account during the selection process
Cost:
All expenses in Taiwan will be paid for by the Taiwanese Youth Development Administration, Ministry of Education. International airfare is not included; however BCCIE will provide a $400 bursary towards the cost of the flight. We also encourage applicants to approach their institutions for additional financial support to cover the balance of costs.
Applications are due Jun 16, 2014 Download the application checklist here