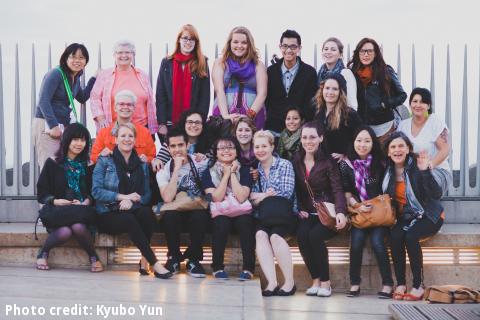 As an art student, the thought of studying the Impressionists (or really any artist) in Paris is enough to make you squeal and the opportunity to attend the Documenta Art Exhibition in Kassel, Germany was something I had been dreaming about since my first year of university. Needless to say when Dorothy Barenscott told me I could do both I responded with "where do I sign up?"
Despite having just spent several months travelling through India and Europe it did not take long for Paris to worm its way into my heart. I loved everything about the city: the graffiti'd walls outside my apartment; the way you could sit at a restaurant for hours drawing out every course of your meal; I loved the way my Parisian friend, Jérémie, went to 4 different bakeries before he found the right baguette for our lunch; believe it or not, I even loved what guide books (and other French people) call "Parisian snobbery".
My three weeks of field school were full of bottles of wine, queasy metro rides, learning and drama (how could 25 girls living together not have drama?), but through it all art was a common thread. Art exists everywhere in Paris: the rich blend of tradition and rebellion (and indeed the tradition of rebellion) create a complex visual landscape that ranges from the Louvre to the vibrant street art to the pastry shops and beyond. The opportunity to travel as a group of artists opened my eyes to the art that exists everywhere in our world and allowed me to appreciate all that Paris had to offer in greater depth. It was an amazing feeling to know that any time you had a question about anything from Gericault to Monet to Invader there was someone in the room next door who would dive in with you and unpack the great mysteries of art. The ability to travel with like-minded people was something I have only experienced through Field School. They taught me more than I could ever have imagined about life and art and Paris.
Are you inspired by this? Search for a Europe Field School here and Make the World Your Classroom!
Or click here to read more blog entries on Study Abroad!