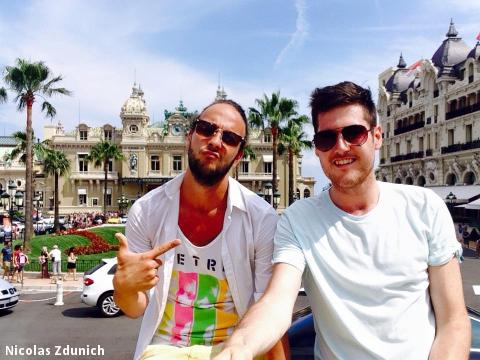 You've decided to take the plunge and go on an adventure with a travel companion. Most likely someone that knows you well, has seen you at your best and worst, a person that has been there for you more than once, and you to them many times. This describes your best friend, a person that is so close that they are like a sibling to you. You may have been through it all, but travelling is an experience that not only changes you, it changes the friendship dynamic. 
Remember this key thought when you decide to hit the road with your amigo.
Always remember, that you don't need to do EVERYTHING together. This statement is easier said than done. When travelling, the comfort zone that provided the backbone of your friendship has changed, you are now pioneers set out to discover parts of the world that are foreign to you. You will be spending 24-hours a day, 7-days a week with this person. You will experience many amazing things together and you want to make sure you continue to do that throughout the trip and when you get home. But 24-hours a day with someone is a long period of time. Your interest in small talk that used to drive conversation at home become less important because you always have that friend with you, so nothing is 'new' when you ask what is new, you already know the answer. So, once you have your footing down, don't be afraid to take a day or two to yourself. Go see that famous painting you have been dying to see, that doesn't interest your friend. When you take a break from someone to explore and do what you want to do, the need to compromise subsides and the key benefit is you have something new to talk about that wasn't a shared experience.
When you meet up again later in the day, the conversation picks up and you get to swap tales of discovery. Your initially feel like you are abandoning your friend to do other things, but this is not the case. Everyone is looking to get something different out of a trip, so you both must take the necessary steps to ensure that this is a life changing experience and you aren't being weighted by the other person and they aren't a burden, it is when travelling friends feel this way that tension can start to build. Use each other as support for your trip, not as a crutch.
Overall, you will have so many experiences and moments that will be shared with this person, you will cherish them forever, but you also need to make sure you get the cultural experience you went on this trip for. It's about balance and about keeping that friendship dynamic alive on your adventure, so when you return home that dynamic still lives. If you can successfully do this with a friend, you just found a travel mate for life.
By: Nicolas Zdunich, a member of BCSA Writers in Residence team and a former #tweetsabroad scholarship winner. Nicolas majors in Communications and Public Relations at Thompson Rivers University.