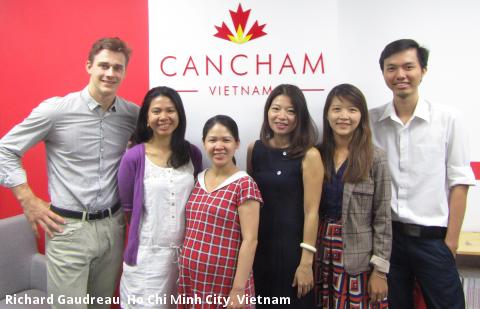 Hello, my name is Richard Gaudreau.
I was born in a very small French Canadian farming community in Saskatchewan, Canada. Since, I then also lived in Montreal, Calgary, and Victoria. I graduated from the University of Victoria with a BA in Political Science.
During my time in University, I had the opportunity to complete three separate work placements: working for the Canadian Navy, the Canadian Federal Government and a Global Online Marketing Company. I have also worked a lot of jobs not listed on my resume including short stints as a lifeguard, waiter, roofer, translator, and pallet production assistant, to name a few.
In the past five years, I also backpacked throughout South America, Europe, the Middle East and Northern Africa. Among the many things that I was able to accomplish, independently summiting Cerro Aconcagua, the highest peak in all the Americas, and travelling throughout the Kurdish region of Northern Iraq were my favorites.
Outside of work and travel, l love a good book and a coffee. I am also sometimes a weightlifter, a cook, a wannabe surfer, a scuba diver and an outdoor enthusiast. My career passions lie in continuous improvement, facilitating understanding and consensus, and building new relationships which can help build a prosperous future. 
This brings me to my most recent decision, moving to Ho Chi Minh City, to work for a year as Coordinator for the Canadian Chamber of Commerce in Vietnam. While I have travelled to a variety of places, moving to Ho Chi Minh has induced a form of anxiety that I have not felt in my previous travels. Whether it is the length of this job placement, language barriers or the information and work overload created by trying to adjust to a new home, job, and culture the first few weeks in Vietnam have been personally disorienting. 
Nonetheless, with all this anxiety, comes phenomenal learning possibilities and exciting challenges. In the past month, I have been able to begin developing relationships with my coworkers and individuals in my area. What's more, after several weeks of mayhem, I am finally beginning to take part in "normal" activities and I have had some time to travel to new locations such as Nha Trang and Mu Nei. All in all, this month has been a rollercoaster and I am very excited to see where the ride takes me. 
If you are interested in my work and the adventure I have undertaken, please feel free to connect with me via Linkedin or Facebook or message me via email at richard.gaudreau@canchamvietnam.org.