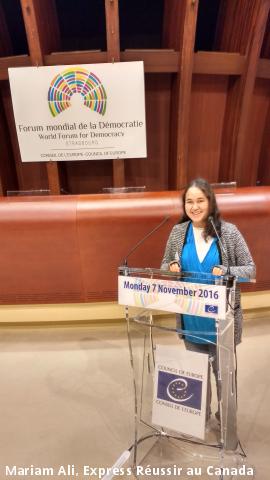 By Mariam Ali, Simon Fraser University, winner of the 2017 Stories from Abroad Scholarship.
Last summer before my exchange to IEP de Strasbourg, I remember being so nervous about my exchange, asking myself how I would fare abroad. One year later I've changed in so many ways, growing as a person while improving my French and my knowledge of the world.
First, my exchange in Strasbourg has made me more independent. Living on my own and figuring out various tasks, all while I was going to school, was often challenging, but I learned the importance of managing my time and prioritization. Budgeting could also be challenging, making sure my money lasted, knowing where to get student discounts, but also knowing when to spend on myself. Another challenge of life in France was dealing with its infamous bureaucracy; I was often left to navigate it by myself, but my frustrating experiences taught me how to be persistent while also staying tactful and patient. Persistence and patience are great qualities to have in any country, but in France the two are a necessity. 
In addition, I learned resilience and adaptability while immersing myself in a new culture and dealing with its various challenges. One of the biggest culture shocks for me in France was the education system. Students there must deal with a much heavier workload, disorganized and archaic pedagogical methods and often chaotic scheduling changes. It was stressful, and during busier weeks I often felt like a headless chicken running around school. I eventually adapted to the French education system, but looking back I realize that I often neglected to take care of myself outside of school and to enjoy myself. I can now better appreciate Canada's education system when I come back.
Lastly, after a year of making friends with people from around the world, I've become more at ease interacting with new people. I consider this the most important part of my personal growth because in the past I often focused on school at the expense of my social life. Also, being an introvert and a tad socially awkward, it often takes time for me to warm up to people. I realized though during my exchange that I needed to interact more with classmates to combat stress and loneliness. I've met some awesome and fascinating folk and I'll be talking more about that in my next blog post.