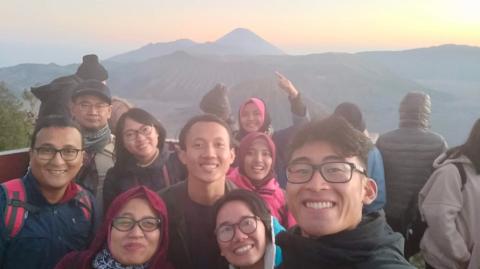 By: Brian Lau, Simon Fraser University, winner of the fall 2019 BC Study Abroad: Stories from Abroad Scholarship
Study Abroad Destination: Singapore
I applied to exchange by myself with no friends from home. I thought this would be a way to push myself out from my current circle of friends, so I go out and meet others. This decision contributed to a significant part of my exchange and growth.
In the beginning, it was difficult to approach people I didn't know, but one friend after another, my curiosity for people's background grew and it became more natural to say hi. I now have so many friends around the world where it gives me an excuse to visit a place because of them!
I don't want the first impression and appearance to determine my conclusion of that person. What lays on the inside is what interests me most. Based on where someone originates from, I gain a deeper understanding of their backstory and how they grew up to certain values. Their environment molds them into someone of culture, value and perspective. By conversing with them I get to see their struggles and how they use their own methods to solve the problem.
During my trip to Bali, I took some time to approach locals and spark a conversation. I want to hear what the Balinese had to say about their tourist infested destination. Many of which had mixed feelings while others were relieved for the increase in business. Since tourism makes up 80% of Bali's economy, locals interact with many people from all types of ethnicity, religion and countries. Through the stories they share, it is evident their knowledge and curiosity grew about the world without visiting the places. They then share that since the Indonesian Rupiah is weak, it makes it difficult to reach these destinations.
So now, instead of only deciding where to go based on its attractions, I take the initiation to visit a city or town for their people. Their insights give me a more diverse outlook on life and how it can be enjoyed from different angles. I know that language can be a barrier of communication at times, however, one thing is universal. That is a smile. :)