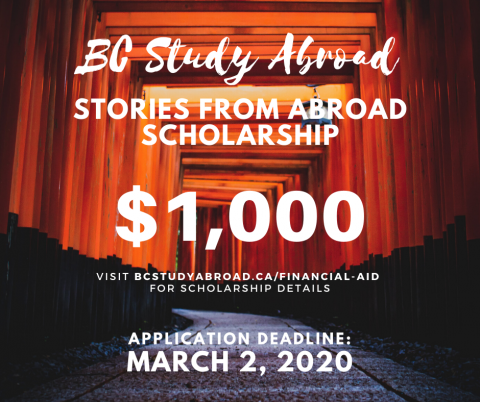 ATTENTION BC STUDENTS!
The Stories from Abroad Scholarship is back for spring 2020 So, what are you waiting for? Apply by March 2, 2020, for a chance to receive $1,000 to help you go abroad!
Look for Stories from Abroad: $1000 British Columbia Study Abroad Scholarship on the Financial Aid page for more information.
ELIGIBILITY REQUIREMENTS
You must be: 
currently enrolled at a BCSA Consortium institution;
currently accepted or enrolled in a short-term study abroad program; and, 
departing or travelling between December 2019 - September 2020.
MORE LINKS
Read about other experiences and adventures abroad here: Student Blog
Interested in sharing your stories? Become a part of our Writers in Residence Team! Click here for more information