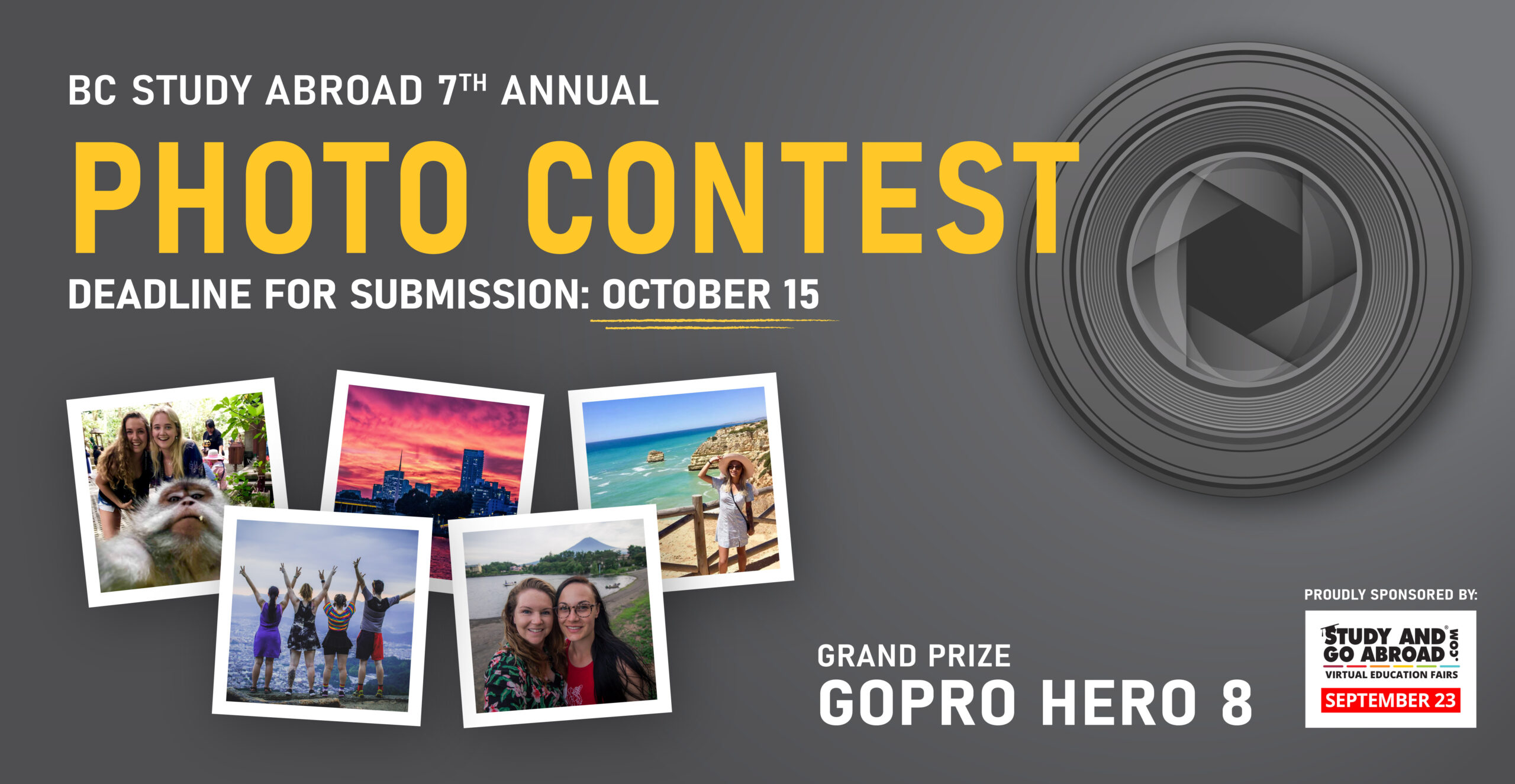 Do you miss travelling? Dream of studying abroad? We do too! Help us keep the dream alive by sharing your study abroad photo memories. Enter the 7th annual BC Study Abroad Photo Contest for a chance to win a GoPro Hero 8 (sponsored by Study and Go Abroad)!

HOW TO ENTER
Enter the BC Study Abroad (BCSA) Photo Contest by clicking the Enter Now button below and following the instructions
Each photo counts as one entry (e.g., 10 photos = 10 contest entries)
The contest form allows a maximum of five (5) photos per submission
You can enter the contest as many times as you like
Participants must adhere to the Terms and Conditions outlined below
PHOTO REQUIREMENTS
You must be the sole creator and copyright owner of the submitted photo(s)
Photo must be non-blurry and include a caption and a location
Photos may be a .jpeg, jpg, png, or gif
At least 2,000 pixels wide and no larger than 10MB
WINNER SELECTION AND NOTIFICATION
Each photo submitted counts as an entry. So, the more photos you submit, the higher your chance of winning!
The winner will be selected and notified in late October 2021 via the email

TERMS AND CONDITIONS
You must be over the age of 18 at the time of entry or have your legal guardian complete the linked consent form.
You must be currently studying or previously studied at a BC public or independent high school or Education Quality Assurance (EQA) designated BC public or private post-secondary institution. If you are unsure whether your school is EQA-designated, please click here.
You must currently be participating or have previously participated in a study abroad or learning abroad program.
By submitting an entry, you agree to share your contact and mailing information with the contest sponsor. The winner will be contacted by the contest sponsor to arrange prize delivery.
Content that is considered inappropriate, off-colour, and/or off-topic by the contest administrator will not be considered for entry into the draw.
Entries must not violate any third-party rights, including (but not limited to) copyrights, trademarks, and/or rights of publicity (e.g., Do not use any third-party trademarks, company names, or logos, etc.)
By entering the contest, you agree to grant the British Columbia Council for International Education (BCCIE) permission to use your photo and photo descriptions on StudyinBC, BCCIE, and BC Study Abroad (BCSA) promotional materials, including (but not limited to) print, digital, and online channels, such as Facebook, Twitter, LinkedIn, and Instagram.
DISCLAIMER
The BC Council for International Education (BCCIE) does not take responsibility for any infringement of copyright laws and regulations by the contributor through their submitted content. BCCIE will endeavour, to a reasonable extent, to ensure no infringement takes place prior to publishing any content. It is the responsibility of the contributor to disclose the names of any and all authors for each submitted piece.
BCSA and the BCSA Photo Contest are administered by the British Columbia Council for International Education.
Questions? Contact us at info@bcstudyabroad.ca
SPONSOR
Thank you to Study and Go Abroad for sponsoring our 7th Annual BC Study Abroad Photo Contest!
Study and Go Abroad Virtual Fair
Date: Thursday, September 23, 2021
Time: 12:00 - 6:00 PM
Cost: Free
Thinking about studying abroad? Don't miss the FREE Study and Go Abroad Virtual Fair!
On Thursday, Sept 23rd, connect with universities from across the globe to start pursuing your dreams of studying abroad for a semester or a whole degree!
Visit booths, download brochures, watch videos and join webinars. Chat with representatives from universities, colleges and professional schools, as well as work abroad and volunteer specialists. Learn about undergrad and postgrad degrees, diplomas, and certificate programs, as well as semesters abroad. Ask about admission requirements, and available scholarships. The fair will also feature embassies, education consortia, volunteer companies and work abroad specialists.
Also, check the fair webinar schedule and see which institutions are attending on our website.
Admission is FREE
Start Exploring Your Future!