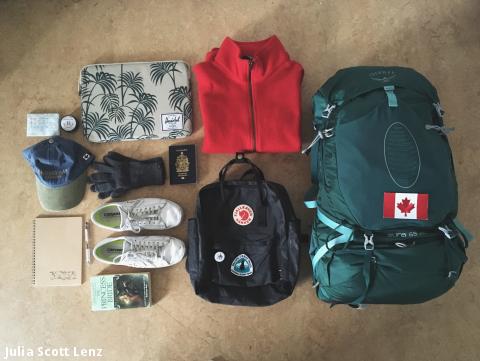 By Julia Scott Lenz, Simon Fraser University, winner of the 2017 Stories from Abroad Scholarship.
Around three and a half years ago, I packed my mom's sedan with everything I thought I needed to start university. Every piece of clothing, every sentimental postcard, every favourite book, and then we drove for hours. Eventually, I lugged every single bin and bag up to the 4th floor of my new building and into my very own dorm room. It was my first time living on my own and it was so exciting to be in a new city with a few of my closest friends, starting at a new school, and taking my first steps into the so-called adult world.
Now, I'm packing yet again to move away from home into a dorm room at a university at the end of this week. This time around, I'm catching a plane rather than driving, I'm crossing the Atlantic Ocean rather than the Strait of Georgia, I'm by myself instead of with friends, and I'm only taking 2 (ish!) bags instead of an entire car full.
It is daunting, and I have a lot of fears.
But it is also exhilarating. Travelling to the Netherlands has been on my bucket list for as long as I can remember. In particular, I'm looking forward to traversing the streets by bicycle, the country's national mode of transportation, and visiting the vast fields of tulips that bloom in the spring. The Netherlands, and Utrecht where I'll be studying, is different enough from home that it can offer a change of perspective and understanding on how we move and commute within a city. But nearly everyone speaks English, so hopefully it'll be easy enough to ask for direction when I get lost on one of the city's many bike lanes.
One of my favourite quotes comes from Winston Churchill; 'We shape our buildings, and thereafter they shape us.' I'm looking forward to seeing how I'll be shaped by Utrecht, by its roads and buildings and new perspectives in an old place. Though this is a huge change, I think this will be the capstone to my university career, and I honestly can't wait to see the challenges I'll face along the way and during my time in Utrecht.