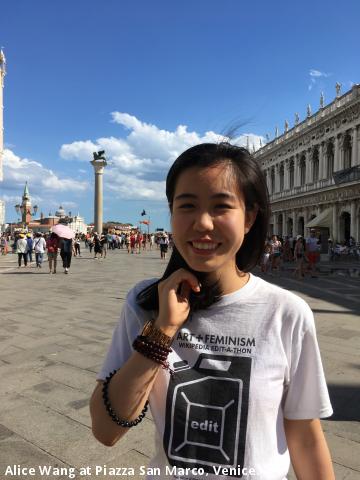 By: Alice (Ruo Ran) Wang, Kwantlen Polytechnic University, winner of the 2017 Stories from Abroad Scholarship.
Before I begin to delve into the expected "life-changing" factors of this trip, allow me to confess how exhausted I am from the travel. In retrospect, four countries in four weeks is an itinerary for fools. To experience Paris, documenta, London, and Venice Biennale in less than a month is not a vacation, it is a full-time job. It has almost been a week since I came back from Canada and I am still recovering from "traverleritis." It is a condition characterized by physical and mental exhaustion caused by prolonged FOMO. The remedy: intense house-rest in an austere—no art, no history, no foreign cuisine—environment coupled with moderate exercise. The romantic notion of being a free-spirited traveler comes at a hefty price.
Fortunately, I found inspiration in every city that I went. In Paris, it was at the Palais de Tokyo. There was an exhibition called The Dream of Forms where it explored how artists collaborate with scientists in their practice. In London, the Wellcome Collection blew me away. Half of the permanent collection was devoted to the history of medicine; the other half, to how scientists and physicians engage with contemporary art to explore questions unanswered by data. The intersectionality of art and science has never been more apparent and I hope to have the chance of mining their library and archive for my MA research. In Venice, the Greek pavilion of the Biennale mounted a fictional video work that uses the environment of a biological laboratory to draw a parallel between cell culture and human culture. All these works were music to my ear because my background in cell biology predisposed me to look for how contemporary art engages with the life sciences. This artistic pilgrimage uncovered a wealth of resources on which I will draw upon for future projects.
Several other, smaller delights blossomed into personal significance during the trip. The escargots I had in France were the most amazing treats I have ever eaten. Composing a letter for a friend on the train while the German countryside perused past me was as poetic as it sounds. The Grimm World museum galvanized my aspiration to become a writer and my most profound time in Venice was spent consoling my hostel roommate about the awful day she had. Nothing brings people closer together, and with greater expedience, than similar misfortunes in foreign land. Through the warmth of hot drinks and solidarity we found our spirits renewed. We spent the next day taking in Venice, enjoying ourselves to the fullest, before parting ways to go on the next leg of our journey.