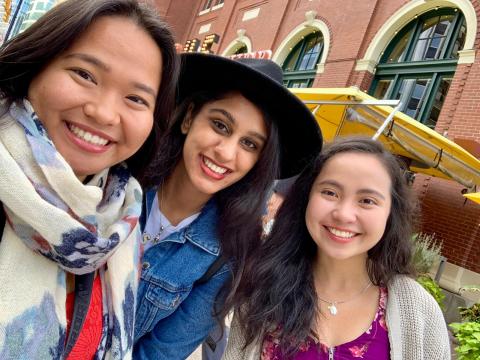 By: Pooja Bhatti, British Columbia Institute of Technology, winner of the spring 2019 BC Study Abroad: Stories from Abroad Scholarship
Study Abroad Destination: Italy and Austria
It's been over two weeks since I've returned from my study abroad. A lot has changed. I don't eat pasta and gelato for breakfast, lunch and dinner. I don't see the amazing architecture of Europe or find myself exploring a new company or a new city. Things have gotten really quiet back home in Vancouver; this has provided me ample time to reflect on my experience.
Studying abroad was hard. It was difficult to balance having fun and getting homework done. It was incredibly hot in Europe, to the point where I got dehydrated for several days.
But studying abroad was also amazing. I visited incredible companies like Armani and Illy. I ate everything I wanted and saw sites I never thought I would get to see. I gained some incredible friends who I've already spent time with since returning to Vancouver, and who I know will be some of my best friends for years to come.
But I also lost something. Something I thought I'd never lose but ended up losing on this study abroad experience: My fear of travelling alone to unfamiliar places.
In June, I wrote about how I was afraid to study abroad because it would be the first time I would be without family or close friends. I was afraid I wouldn't be able to find my way around the unfamiliar cities, or that I would get robbed or not have a good time. I was afraid I wouldn't be accepted by those I was travelling with, or that I would get incredibly homesick and want to come home.
Now admittedly, I did get homesick at times. I didn't get along with everyone at the study abroad program. I did get lost. But the majority of the time, I felt this euphoria from independently making my own decisions about my travel experience. To book a train ride to Verona just because I wanted to, or to walk freely in an unfamiliar city, not knowing where it would take me. To try to speak the foreign language and have people respond to me in a foreign language, like I was meant to be there. 
A couple of months ago, the thought of traveling alone terrified me. But now, I can't wait to be able to do more of it. 
And if you ever have the chance to study abroad – do it. It's the best decision I've made.