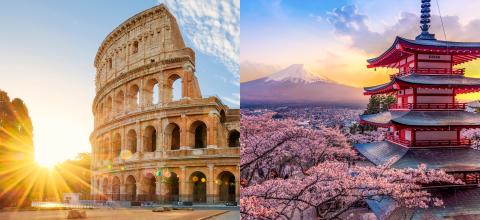 BCIT is taking applications for their 2023 Summer field school programs to either Japan or Italy!
BCIT Business Summer Field Schools combine academic lectures held by BCIT instructors and international guest speakers with company visits and immersive cultural activities at international locations. By attending a field school you'll have the opportunity to receive credits for academic courses, learn about international business practices by visiting multinational companies, and ultimately, be fully immersed in the local culture.
Italy
Dates: June 25 – July 15, 2023
Theme: Luxury Brand Management
Cities: Rome, Florence, Bologna, Venice, Vicenza, Trieste
Company visits: Lamborghini, Ducati, Fincantieri Yachts, SMEG, McArthur Glen Outlet, Chiarli Winery, Bulgari, Nonino Distillatori, Bisazza, Furla, Moroso
Cultural visits: Vatican Museum, Colosseum, Uffuzi Gallery, Andrea Palladio's Teatro Olimpico and Villas, UNIBO, and wine tasting
Courses:
GLBL 5001 – Luxury Marketing (3.0 credits)
BCST 5035 – Global Storyteller (3.0 credits)
Japan
Dates: July 23 – August 11, 2023
Theme: Innovation
Cities: Osaka, Kyoto, Nagoya, Yokohama and Tokyo
Companies: Daimon Sake Brewery, Kirin, SCMAGLEV, Sony, Suntory Yamazaki Distillery, SCMaglev, Tower Knives, Toyota.
Cultural visits: Cup Noodles Museum, Fushimi Inari Taisha Shrine, Japan Mint Museum, Kiyomizu-dera Temple, Miraikan National Museum of Emerging Science and Innovation, Museum Meiji Mura, Nagoya Castle, Umeda Sky Building.
Courses:
GLBL 4010: The Visual Culture of Japan (3.0 credits)
GLBL 5002: Innovation (3.0 credits)
Practical details:
Who can go:
What is included:
Two 3.0 credit courses
Field trips to course-related sites and companies
Shared accommodation and breakfast
Cultural program
Ground transportation
Early bird price:
Regular price:
*Airfare and personal expenses not included.
How to apply:
Send a letter of intent stating why you want to participate to sobiep@bcit.ca and complete our short application form.
Application deadlines: