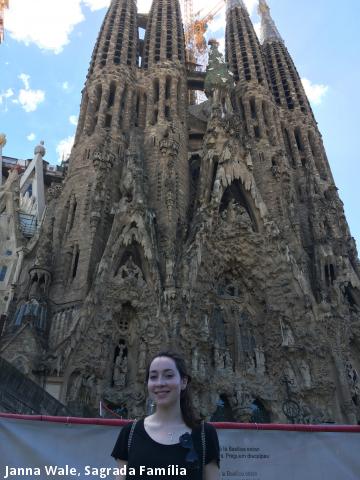 By Janna Wale, Thompson Rivers University, winner of the 2017 Stories from Abroad Scholarship and a member of the BC Study Abroad Writer in Residence Team.
If you are anything like me (poor university student), budgeting is your best friend. This becomes especially important when travelling. The more places you want to see, the more things you want to experience, the better you have to be about keeping track of your money. Luckily, I picked up a few tips about travelling on a budget, even in a more expensive country like Spain.
The first thing I would recommend is to learn the conversion factor from your currency to the currency of the country that you are thinking of travelling in. Spain functions on the euro, and having a conversion app on my phone helped me to decide whether I wanted to pay 10 Canadian dollars for a chai latte from Starbucks or not. This is a handy tool if you are not able to check the daily conversion rate. It can be overwhelming when you are in the grocery store and everything is priced out in euros, but being prepared to do your conversion between prices can really help you save money in the long run.
The second thing I would recommend would be to check out cheaper venues of accommodation. Spain in particular has a wide variety of hostels, Air BnB's and group accommodations, so if you are travelling to Spain, I would recommend doing your research before you book anywhere. So whether you are staying with friends, or have decided on a trendy local hostel, your accommodation can be a source of major saving if done right. Truth be told, if you are anything like me, you will be spending most of your time out sight seeing rather than your accommodation, so saving money here can be put towards taking that train or buying that postcard to send home.
The last thing I would recommend would be to not let the price of things deter you from enjoying your experience abroad. While there are things you can do to save while travelling, I am a firm believer that the price of the experiences is nothing compared to the memories that you will have for a lifetime. While you are off in some foreign country, enjoy the places that you find yourself in. Take the time to enjoy where you are. Buy that croissant. Take that flight to the Spanish Islands. I can give you advice on how to save money travelling to Spain, but the best advice I can give is to enjoy the experience.