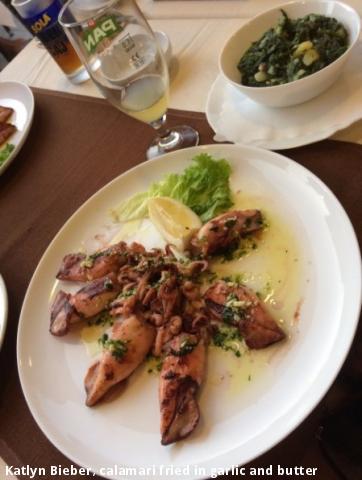 By: Katlyn Bieber, Thompson Rivers University, winner of the 2017 Stories from Abroad Scholarship.
Food has been a big part of my exchange so far, both in Graz and in all of the places that I have been fortunate to visit. Below I will highlight some of the foods (or drinks) that I have been able to try so far!
Switzerland: I went to Bern, Switzerland for 4 nights to visit my friend who is studying abroad there! Because Switzerland is very expensive, I didn't really eat out much. While I was there, my diet consisted of carrot sticks, chocolate, and radler. I did; however, try an interesting Swiss soft drink called "Rivella," which is produced from milk whey. I tried a kind that was mango flavoured. It was very interesting but definitely not my favourite drink. One cup of it was enough!
France: I spent 2 weeks in France on my Easter break visiting my friends and host families from a previous Rotary Youth Exchange. I was there over the Easter break so I went to the "Marché" or market with my friend and her mom to pick up different pâtés and other delicacies.
Then her family made me Easter dinner which was the typical 4 course French meal including an appetizer, entree, cheese and dessert! It was very tasty! My favourite part was the cheese! Oh how I had missed good goat and blue cheese!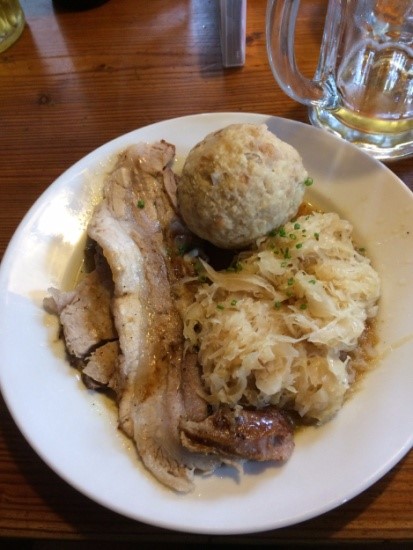 Baerenschutzklamm, Austria: At the very beginning of May, I participated in a fantastic hike to the Baerenschutzklamm and the Hochlantsch Peak. It was incredible as we hiked up wooden brooden bridges and ladders which extended over a gorge with waterfalls below. It is one of the longest gorges in Austria with over 164 wooden bridges and more than 2,500 rungs. At the top of the gorge, I continued up the trail with the group of hiking enthusiasts up to the peak of Hochlantsch, which had beautiful mountain views from an elevation of 1,720 m! After this strenuous hike, we definitely merited the traditional Austrian dish "Schweinsbraten" (roasted pork) that we ate at the restaurant found at the top of the Baerenschutzklamm! The roasted pork was served with delicious potato dumplings and sauerkraut!
Salzburg: Salzburg was one of my favourite cities in Austria. It was not only rich in historic buildings (there was a castle and a beautiful downtown) and tourist attractions ("The Sound of Music Tour" and anything to do with Mozart), it also had many delicious foods to try. The first interesting dish that I tried was a dessert called the "Salzburg Nockerl." It is a sort of soufflé that was served with currant jam and cream.
I also ate Wiener Schnitzel with "kartoffelsalat" (potato salad) and Johannisbeersaft (currant juice).
Salzburg is also famous for their "Mozart Kugels" or "Mozart Balls" which is a confection made of pistachio, marzipan, and nougat covered in dark chocolate. You can buy them from the supermarket by the bag; however, when in Salzburg, you must do as the Salzburgers do, and buy the Mozart Kugel from a Confectionery Store! So I did and it was delicious!
Krakow, Poland: Before going to Poland, whenever I thought about Polish food, perogies, sauerkraut, and sausages always came to mind. It turns out that I was right! While in Krakow, I tried some delicious perogies, a delicious sausage and sauerkraut dish, and potato pancakes covered in goulash!
Croatia: I stayed on the Krk Island in Croatia and my favourite meal was easily the calamari fried in garlic and butter which I ate the first night! The other couple meals that I ate there were pizza one night and sardines with fries the next!
Overall, I was fortunate to learn about and try a lot of delicious local foods during the time that I have spent in Austria so far!