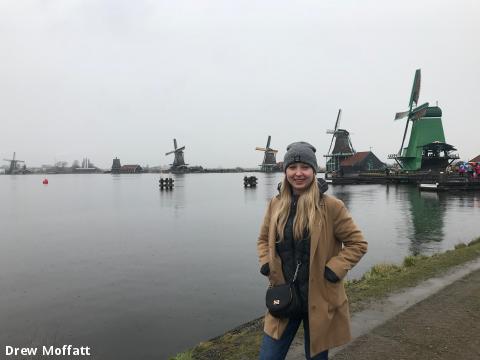 By: Drew Moffatt, British Columbia Institute of Technology, winner of the BC Study Abroad: Stories from Abroad Scholarship, member of the Writer and Residence Team
When I moved abroad my biggest priority was to maximize all my free time towards travelling. I was on a strict schedule with balancing 6 classes, so I knew I had to make the most of it. In addition to that, I was on a very limited budget (as the EUR is not so friendly to the CAD). With technology today, it is honestly crazy what you can all accomplish from your fingertips. So I am here to tell you the top 5 apps that I used when studying abroad to help maximize my time and money.
Google Calendar – it will be your best organization friend. It is extremely user-friendly because many airlines/booking websites already allow you to automatically integrate your bookings right into your calendar. And especially in a place like Europe where you are taking trains, planes, and buses, you can easily get confused where and when you have to be somewhere. In addition, you can integrate your course schedule right into it as well.
Hostel World – when travelling as a student, you look for the most budget-friendly options. Hostel World provides you the easiest way to book cheap hostels with hundreds of reviews. Also integrated into the App is a translator! You can speak directly into it and it will translate into multiple languages. It was a huge help when travelling.
Citymapper – this app helped a lot with getting around in some of the big cities I visited. Now, it's not available in every town/city, however, it helped so much in places like London or Paris, which have huge transit lines/systems. Citymapper will tell you such specific details, prices, and times. Plus that way you didn't have to download different apps every time you went to a new city.
BlaBlacCar – this was very new and different for me. In Europe, BlaBlaCar is a car-sharing app. Sort of like Uber, but instead of driving you to the local train station, these are people that are driving quite far distances and you can carpool with them! I used this when my bus was randomly cancelled in Belgium going to France. Last minute, a man posted a ride share who just so happened to be doing the same route as me. I was able to book with him right away for quite cheap. The bonus: he dropped me off right at my Airbnb in France. This app was quite common for Europeans and it is very safe.
Google Flights – this is the one app/platform that I live by for my flight plans. It takes all the airlines and all the booking agencies and posts it into one page. It will let you know what the flight has on the plane (ie. chargers, TVs, meals etc). It will even tell you if this flight usually gets delayed or not (extremely helpful for those connecting flights). You can even track the price of a flight, so you can know if the price will drop or not.