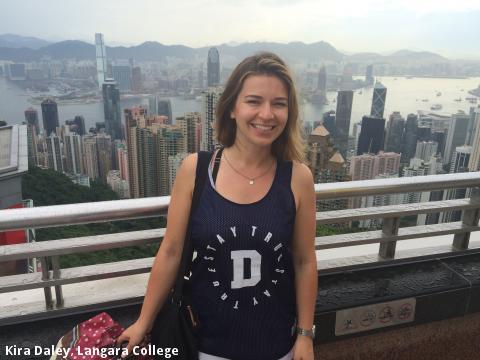 I can honestly say that I have started and stopped writing this post a few times already. The magnitude and variety of new things I experience each day is sometimes overwhelming. How can I write just a brief post about a sliver of this adventure when I want to go on and on?
I chose to write about the top 3 things I am fascinated about in China so far.
Food (of course!)
I was excited about discovering a little more about the vast array of food in China before I left home, so it's no wonder that I am even more excited now that I'm here. Where to start? For one thing, I love the street food in China. No matter where you are, you can wander down any side-street and find little storefronts and carts selling everything from fried chicken, flattened skewered fried squid (the sign said "Squid! It's bigger than your face!"), sweet potato balls, flat grilled noodles sliced up and mixed with little sausages, tofu skin and topped with drizzled mayo-like sauce. When I'm out and about with friends we will often make 2 or 3 stops on a street, gathering exciting snacks as we go. Cute food can also be found easily here. I have had steamed buns decorated to look like little pigs, bears and even a mochi ball filled with custard that was decorated to look like a little panda. So cute!
Culture and History
My experience as a third generation Ukrainian-Canadian means that my family does not have a long history in Canada, and our connection to our family history and traditions back in Austria and Ukraine has weakened. Maybe it is because of this I am fascinated by the long history of life and culture in China. I went with my friends to see the Chinese film "Song of the Pheonix" in Shenzhen. The film follows the life of a young boy growing up and learning the disappearing art of playing the suona, a traditional Chinese instrument played at important occasions such as weddings and funerals. At the end of the film my Chinese friend told me that before her grandfather died, he requested that the suona be played at his funeral. This connection between that deep cultural history and the present was very moving for me as I moved through my fast-paced modern-day experience in such a bustling city like Shenzhen.
Friendship
I have to finish on a note about the new friendships I am grateful to have formed on this trip. The warmth and generosity I have experienced with the Chinese students has surpassed anything I've seen before. They go out of their way to include all of the visiting Canadian students in our activities, especially the ones who are more shy and quiet. They insist on paying for our taxis, snacks and treats when we go out, and I have to fight to be able to treat them to dinner when I feel like it's my turn. I feel so grateful to have had this chance to get to know such warm and friendly people on this trip. I'll end this post on that warm and fuzzy note =).
Kira Daley, Langara College. Winner of the 2016 Stories from Abroad: British Columbia Study Abroad Scholarship.