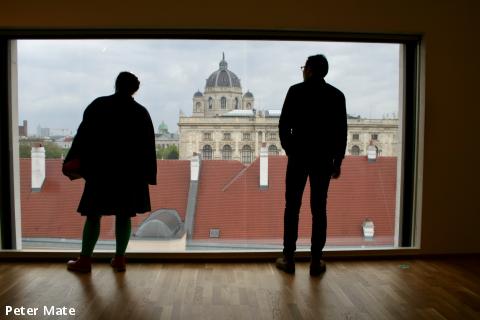 By: Peter Mate, Fairleigh Dickinson University, Vancouver Campus, winner of the 2017 Stories from Abroad Scholarship and a member of the BC Study Abroad Writer in Residence Team.
I advise my fellow travelers to take time to reflect in order to review their growth during their time away from home. Reviewing their growth will enable new ideas to take shape by providing time to reflect on their life's journey. When I was living in New York and Budapest, I lived off the energy of my surroundings: Protests, exploring and achievement became a regular occurrence. However, my time abroad elicited contempt: I finished my studies confused about my career and overall intentions. 
When reviewing my time abroad, I realized that I pursued many endeavours simply for their achievement. This pursuit of achievement only elicits happiness in a competitive environment. In this sense, I was consistently competing with my peers for recognition. This realization became painfully evident one month before returning home. I had a job lined up with the Federal government in Toronto, and I was planning to study for my Law School Admissions Test. However, I experienced intense angst caused by anxiety and loneliness. The anxiety was based on my fear of falling behind my peers; the loneliness came from feeling as if I poured too much of my life pursuing my career. As such, I chose to briefly travel Europe to reflect on my life prior to returning home.
Based on my experiences travelling, I found that creating meaningful connections brought happiness to my life. Moreover, my newfound discoveries in foreign countries brought me satisfaction. These positive emotions were based on the intrinsic satisfaction pursuing happiness brought. Instead of looking for external satisfaction through achievement, internal satisfaction made me happier. This realization evidenced itself during my time in London. I stayed with several roommates in a flat in the east of the city. Of these roommates, I befriended two of them and decided to join them to experience London's nightlife. During our adventures, we befriended several Norwegians, and ended up exploring the city until the early morning. I felt an intense happiness in exploring a foreign city with newly made friends. This intense happiness motivated me to change my lifestyle temporarily to enjoy time with family and friends before returning to school in the Fall.
Due to this realization, I chose to decline my position with the federal government. In this position's place, I've opted to spend the summer with friends and family. Due to this decision, my anxiety and loneliness have dramatically reduced as I've managed to strengthen my connections with loved ones, old and new.  Hence, the amount of places you visit, or your accomplishments matter relative to the satisfaction you derive from them.