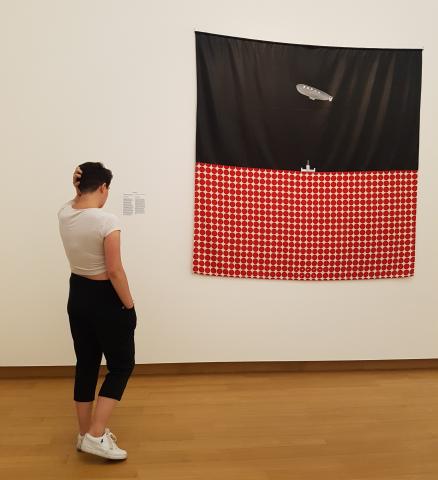 By Julie Han, Simon Fraser University, winner of the 2018 (Spring) Stories from Abroad Scholarship, member of the BC Study Abroad Writer in Residence Team
Study Abroad Destination: Amsterdam, The Netherlands            
Exactly a year has past since I left for Amsterdam, and everyday I feel further and further than whoever I used to be, and every moment I thank myself. I went through an unbearably cliché amount of personal growth during my semester abroad, which almost makes it totally not worth it. And only in my final days in Amsterdam did I even begin to appreciate my labour.
Maybe four days before my departure, my friend Jess came to stay with me. Possibly one of my oldest friends and intermittently closest friends since secondary school, Jess has watched me throughout the years, including all my brief highs and my lasting lows.
On her first day, I took her to my favourite museum in Amsterdam, the Stedelijk, which houses mainly modern and contemporary art. Probably due to the jetlag, conversations were sleepy and short, just getting re-acquainted. We walked towards this sterile white room, with a mysterious whirring. Above lay a grid of hanging white skirts, meant to look like flowers, with light bulbs in the center. Like everyone else, we hugged the walls with our necks craning up – until I just couldn't take it anymore. I walked to the center of the room and lay on my back. Several moments later Jess joined me. We lay next to each other in a V, with our heads at the crux.
                 "You seem better."
                "Whaddya mean?"
                "I don't know, just better."
                "Thank you."
Both study and travel are practices in reflection and transformation, comparing where you were and where you are. And after six months rootless, I realize I was scared, bitter, and actually mean. Oh, man. I was mean. That's probably what I'm most ashamed of now. But, despite the cliché, it was worth it. Totally worth it.