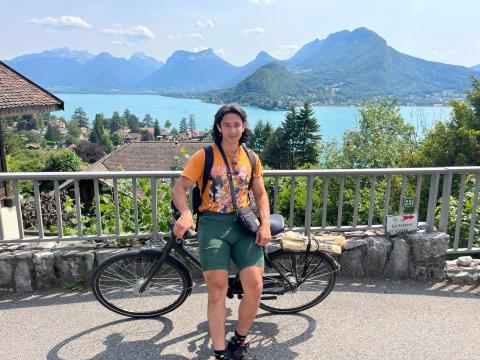 By: Alec Weinstein, North Island College, winner of the Fall 2022 BC Study Abroad: Stories from Abroad Scholarship
Study Abroad Destination: France
When one envisions the Alps, the mind often conjures images of towering giants like Mont Blanc and the Matterhorn. Yet, beyond these awe-inspiring mountains, the region offers a wealth of other treasures to discover, including emerald-coloured lakes, delectable cuisine, and a rich cultural tapestry. This year, I've been fortunate to study and intern in the Alpine town of Annecy, aptly dubbed the 'Venice of the Alps' due to its charming old town and picturesque canals. Situated less than 40 kilometers from Geneva, Switzerland, Annecy remains a hidden gem that boasts one of the highest qualities of life in France.
Coming from Vancouver Island, known as one of the world's most stunning places, I found Annecy's natural beauty to be a different, yet equally captivating, experience. With one of Europe's cleanest lakes encircled by mountains right at its heart, this city beckons tourists from far and wide to witness its splendour firsthand.
Living in Annecy has profoundly transformed my perspective. Back home, on Vancouver Island, we're accustomed to the relaxed pace of "island time." However, in the Alps, a true appreciation for life's simple pleasures and taking one's time prevails. During my internship at a sustainable shoe company, I was pleasantly surprised by how relaxed everyone was. In France, it's customary to indulge in leisurely 1- to 2-hour lunch breaks, during which we're encouraged to pursue our passions, whether it's hitting the gym, reading, learning a new language, or simply unwinding at home. Initially, I questioned the efficiency of this approach compared to the more continuous work culture I was accustomed to in Canada. Yet, I quickly realized the wisdom behind it. This method didn't just make the day about work; it allowed me to engage in activities I genuinely loved and return to work feeling refreshed as if I were starting a new workday. For instance, when the desire struck, I could cycle just ten minutes to take a refreshing swim in one of the world's most beautiful lakes, enjoying the company of friends while escaping the summer heat.
Another delightful aspect of summertime in the Alps is the strong sense of community and enjoyment. It's not uncommon to see families with children out and about at 10:30 p.m., savouring ice cream and leisurely stroll through the town. One of my cherished experiences involved partaking in Sunday evening live music events, where people of all ages gathered to dance together. I marvelled at the dance prowess of elderly individuals who appeared as youthful as 25 with their graceful moves.
Moreover, the summertime in the Alps is marked by an array of festive celebrations. On June 21st, the city erupts with the Fête de la Musique, a city-wide musical celebration coinciding with the year's longest day, marking the beginning of summer on a harmonious note. Another remarkable event is the Fête du Lac, Europe's largest fireworks extravaganza. This 75-minute fireworks display showcases breathtaking pyrotechnics. In addition to these grand events, everyday life is filled with joyful moments. Weekends often revolve around picnics by the lake with friends or cycling along the 42-kilometer path, offering non-stop, breathtaking vistas.
In summary, my time in Annecy has fundamentally altered my perspective on life. The people here prioritize quality time with friends and the pursuit of personal interests, and I wholeheartedly recommend anyone with the opportunity to study here to seize it. It's an experience that will undoubtedly lead to personal growth and positive transformation.