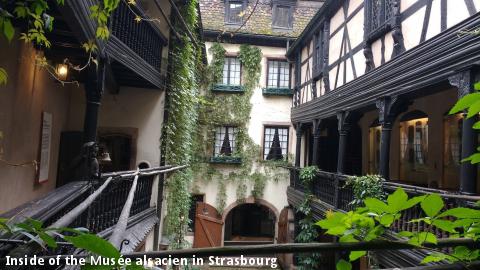 By Mariam Ali, Simon Fraser University, winner of the 2017 Stories from Abroad Scholarship and a member of the BC Study Abroad Writer in Residence Team
Study Abroad Destination: France
The first day of my exchange in France was difficult for me because it was the first time that I was travelling by myself. When I arrived at the airport in Paris, I was confused about directions, lost my baggage and missed my train to Strasbourg, my exchange destination. Thankfully, I could book another train ticket to Strasbourg free of charge, and I later received my lost baggage, but at that moment I felt incredibly anxious. I had to endure a twenty-hour journey without sleep, and when I finally arrived at my new place, I cried because I was so overwhelmed. I actually wanted to talk to the SFU Exchange Office to leave France early, spend one semester there instead of two. My one moment of comfort that day was talking to my friend, Cory Henderson, who was doing an exchange in the city of Reims, and felt similarly overwhelmed.
I eventually settled down into my new life in Strasbourg, making friends in my student residence and meeting family members in the area. At IEP de Strasbourg, my host university, there was a two-week French class in the beginning of September for exchange students, which helped me meet more people. My host university also had a bureau that organized events for exchange students, which I attended as much as I could. However, my main priority was my classes, which were much more challenging than at SFU, mostly because I had to take eight of them instead of my usual four back home. I focused on my classes at the expense of my social life, but even then I had difficulties keeping up. On top of that, I had to deal with people who were mistreating me, and I had some downright ugly experiences with them. Yet again, talking to my friend Cory helped me a lot, and we both shared our struggles and our stories of life in France with each other. 
During my second semester, I decided to focus more on spending time with other people, which greatly improved my exchange experience. I visited Cory in Reims, giving myself a nice break after my first semester exams. In general, I made more of an effort to explore, whether it be other European cities or my own neighbourhood, discovering new gems wherever I went. In addition, I made a concerted effort to distance myself from the people who mistreated me during my first semester. I also went to get-togethers with other exchange students and organized outings to plays and restaurants. After my second semester was over, I visited my new friends in their cities, one of the most enjoyable experiences in my life. In the end, whatever difficulties I had during my exchange were minor compared to the friendships and experiences I gained.