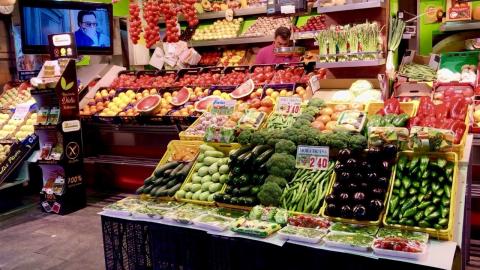 By: Jaimie Cryder, University of Victoria, winner of the BC Study Abroad: Stories from Abroad Scholarship
Study Abroad Destination: Europe
Without a doubt studying abroad has been the highlight of my undergrad. Over the last three weeks, I have had the opportunity to learn from experts in my field of interest; bond with my peers; and enjoy the unique cultural flourishes of each city I that I have visited. At the same time, studying abroad has not been cheap. After you make the initial investment in the course fees and plane ticket you don't want to miss out on experiencing your destination because you are trying to pinch pennies. On the other hand, if you are not careful you can blow through your budget before you are halfway through your trip - which leaves you in quite a bind for the remainder of your journey. To ensure that you are not overspending but still enjoying all that travel has to offer, I have found making a daily budget is an easy way to stay on track. I have found a few techniques especially useful for staying on budget while on the road without having to sacrifice my enjoyment.
Make a realistic budget. Do your research, find out how much food and transportation will cost in the cities that you visit. Don't forget to include spending money for entertainment and shopping. If you factor these "luxuries" into your budget you are less likely to blow your budget because you have not factored in fun.
Keep track. You have put the work into creating a budget, so make sure you are following it. An easy way to do this is to only keep the amount you have decided to spend in your wallet. While it is a good idea to carry a card in case of emergencies limit your spending to the cash you have brought with you.
Carryover. It is unlikely you will spend the exact same amount every day. On the days that you spend less carry over the remainder. This will give you the opportunity to treat yourself on special occasions without going over your budget.
Shop at the grocery store. Depending on where you are in the world, dining out for every meal can really eat into your budget. Save some money by perusing the aisles of a local market. You can still get a taste of the culture because the grocery store will still carry all the local specialties. For even greater savings, split the cost with your fellow travellers and make a picnic. This allows you to enjoy your thrifty meal in a scenic location.
Plan ahead and bring your student card. Many of the main attractions will allow you to purchase tickets in advance online for a slightly discounted rate. This often includes an opportunity to skip the line which can potentially save you hours of waiting. Furthermore, many museums and tours will offer a student rate. So bring your student ID.
So far these approaches have allowed me to indulge in what travel has to offer without breaking the bank. If you have any tips or tricks for budgeting on the road please comment below!