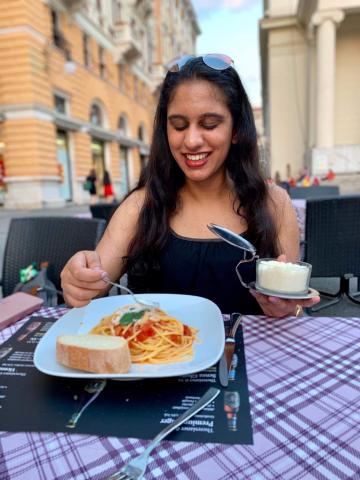 By: Pooja Bhatti, British Columbia Institute of Technology, winner of the spring 2019 BC Study Abroad: Stories from Abroad Scholarship
Study Abroad Destination: Italy and Austria
In 2015, I was working towards obtaining a science degree at the University of British Columbia (UBC). Many of my peers at the time were talking about the idea of studying abroad, and my older brother was at the time on an exchange in Finland. I myself loved the idea of being in a different country for a period of time while I was in school. So, I decided to apply.
The application process was long, but I completed the entire application, including course selection, references, and choosing a few universities. I uploaded my application on the study abroad website and instead of clicking 'submit', I clicked the 'X' on the top left-hand corner and closed my laptop, never submitting my application.
To this day, I still get questions from my peers as to why I never submitted my application. The truth is, I was very scared. I didn't feel ready to live away from home, even if it would be just a few weeks. I can be very awkward when it comes to making friends, and I was terrified that no one would like me, and I would have to be stuck in a new country without a support base. I figured it was safer to not go than to go and face a potential disaster.
However, a part of me always felt like I missed out on something potentially amazing. 
I eventually finished my science degree, but instead of pursuing sciences further, I changed paths and began studying Human Resources at BCIT. It was to be a new start on many fronts, but also a second chance at the idea of studying abroad. When the international office came to orientation and discussed the study abroad programs, I remembered my excitement at UBC and how much I wanted to travel abroad. I also remembered the fear I felt at the idea of it. 
But this time, I figured it would be different. I'm older and more in control of my life. I'm pursuing a field I loved but was inexperienced in and studying abroad could help build myself in ways that studying locally couldn't.
Also, one of the stops was Italy. ITALY! All the pasta and gelato I could eat! 
So, like last time, I spent a long time filling out the application. I sent emails. I obtained references. This time, I didn't click the 'X' at the top left-hand corner – I submitted the application. I attended the interview. I accepted the offer, and I paid the deposit.
There was no turning back. And it turned out, I had a lot more to prepare than I anticipated.