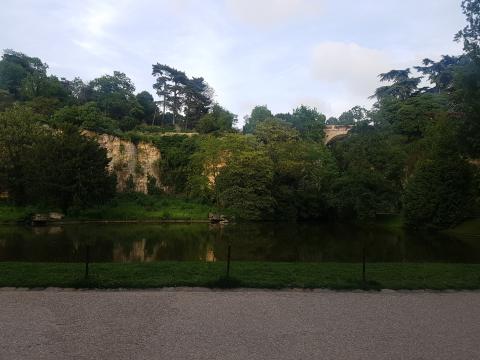 By Julie Han, Simon Fraser University, winner of the 2018 (Spring) Stories from Abroad Scholarship, member of the BC Study Abroad Writer in Residence Team
Study Abroad Destination: Amsterdam, The Netherlands
Be prepared for Paris and all it has to offer, and the very aggressive ways Paris will offer it. Without fail, Paris fails to live up to its expectations. But, with expectations that high can anyone be surprised? And I too can attest that this phenomenon of many names is a hundred percent true. But, it is unfair. Paris does live up to its expectations, just not all the time and never at the right times.
I arrived in Paris in the early evening as the light began to wane. After losing myself in the streets, both literally and figuratively, I arrived at my hostel with not many options to salvage the day. So, I walked up to the nearby park, which happened to be le Parc des Buttes-Chaumont, and read. I sat across from the pond and flipped through The Vegetarian by Han Kang. Absolutely perfect, until not one but two certainly over fifty-year-old men whisked me away to an undisclosed location, which they both independently referred to as 'a surprise.' I did not wait for a third, while only managing to read ten pages.
On my first full day in Paris, of course, I went to the Louvre. It's likely the tourists' fault for having a mediocre time at the Louvre because tourists all go to the Louvre, seemingly all at the same time. By the time I made it halfway through, I was starving and sweaty, and another man with another undisclosed location had begun stalking me through the museum. Thankfully, I lost him through the gift shop, which is also massive.
Every evening I watched the sunset from le Parc des Buttes-Chaumont -- from under the trees, on top of the hills, and by the pond. In Paris, if you are patient and willing, these monumental moments will present themselves to you -- and so will a barrage of never wanted sexual and racial harassment. You may even learn some new inflammatory gestures. So, be prepared -- for all of it.