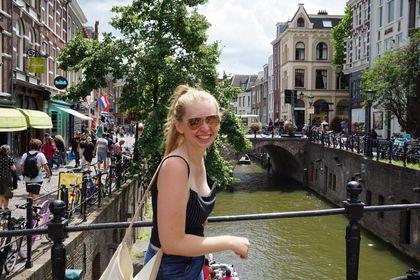 By: Brianna Condilenios, Simon Fraser University, winner of the spring 2020 BC Study Abroad Scholarship
Study Abroad Destination: Netherlands
Openness: the quality of being receptive to new ideas, opinions, or arguments; open-mindedness. This calls for active listeners who do not wish to have their expectations confirmed, but who bring with them a certain curiosity and openness to the world.
[dictionary.com]
The sheer amount of diversity on this planet inspires me. The world is bursting with brilliant cultures, people, languages, places, food, music, and countless other marvellous wonders. There is simply so much to learn, experience, and love. For me this sort of magnitude translates into a glimmering excitement that energizes me like nothing else. However, developing the quality of openness is foundational to experiencing everything in its wholeness. There is incredible power in being open with yourself, other people, and to the endless possibilities that the world had to offer.
I started with an open attitude towards language learning. Although Holland is a very english friendly country, I thought learning Dutch could deepen my level of cultural understanding. The value of directness and efficiency embedded in Dutch culture was clear after learning even a basic level of the language. Additionally, words like 'gezellig' (no direct english translation) convey the friendly warm spirit of Dutch people and places. I adored being able to speak Dutch with locals as I felt like they were more comfortable, and it led to more endearing conversations and connections.
I continued practicing openness by embracing new ways of thinking and living while suspending my judgement. I listened to music I would have never chosen. I considered other versions of learning and student life that challenged the systems I was used to. I was open to the difficulties of learning english from the perspectives of nonnative speakers. When it would have been so much easier to judge and stick to my comfort zone, I challenged myself to listen, learn, and be more accepting.
Being truly open takes a special kind of courage that is difficult to put into words. I had to step down from my high horse and show a little humility. I accepted that people from different areas of the world make sense of and live in the world in unique ways. Instead of defining such ways as wrong and dismissing them, I welcomed them with open arms. I questioned the way I thought while making unexpected and sometimes uncomfortable changes in my daily life. Not only did being open to other ways of living and thinking allow me to make deeper connections with people from Greece to Chile, but it allowed me to expand the way I see and live in the world to depths that I did not know I was capable of. And for that I will be forever grateful. Now I can only imagine the thrill of what lies ahead by continuing to live with an open mind and heart.
Open mind, open heart, and the world is yours.