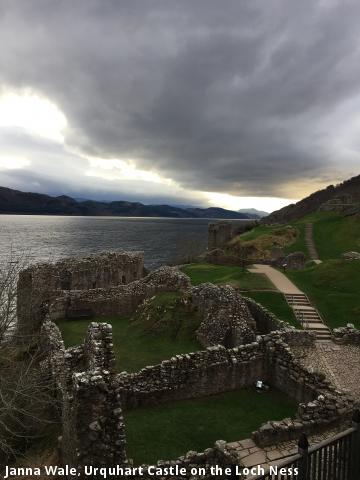 By Janna Wale, Thompson Rivers University, winner of the 2017 Stories from Abroad Scholarship.
Another day coming to a close. I'll try and keep from letting the sound of rain hitting the roof distract me. That's one thing that I've been loving since I moved to Inverness, Scotland. I just really like the calm feeling that rain brings when the sun has gone down and you can just sit with a hot tea and listen, maybe reading another chapter or two of that book. Or finishing that essay that needs to be started…hmm..
Today was normal. Sort of. I'm still learning all kinds of new things about living abroad in Scotland. Crash courses in adapting to change and culture have been offered here and there over the last few years of my life, with moving around and meeting people from outside of Canada. But this is now obviously different. I am now the one from outside of the country.
About a year back I began seriously looking into doing a semester abroad. Being in second year I had already met plenty of exchange students and knew many people who had gone on exchanges themselves. So having never been overseas, I applied to study in Inverness, Scotland. I was accepted two weeks later and immediately, being the type-A personality that I am, began to plan every detail of the trip.
This was the way it was for a time. The initial thrill of change, a long ways into the future. I could dream about it but didn't have to worry about actually going. Things changed after a few busy months of school and a challenging transition into a summer job away from home. I started to get nervous about being so far away from my family and being in a completely different part of the world. When I was growing up, my family moved around a lot for my dad's work. The first few years of my life I had lived in more houses than I had had birthdays. The difference between this and study abroad was that I was going alone. I had never really left the country by myself. But, I reminded myself; it was a long time away. I had lots of time to prepare. For months I was talking about moving abroad, completing the steps of the application, planning (to some extent – not nearly as much as before), convincing myself it was going to be the same as when we moved around as a kid, but it wasn't really sinking away that I would actually be leaving. Alone. It wasn't until after my eight-hour flight into Amsterdam that I was really like, okay I'm doing this. I'm the one from out of the country. The culture here is different.
Anyway, I tell you this to say… that I am not exactly 'new' to moving nor am I a stranger to meeting people from abroad. I've had many interactions with people on the adventure of a lifetime. Now I'm part of one. However, I am new at being out of the country myself and experiencing things on my own for the first time in my life. I've always been an all or nothing kind of girl, but this is next level stuff for me. I wanted to go, and away I went. Terrified, walking, stumbling and sometimes falling, through this experience of being the one to actually go and live in a different culture for four months instead of just hearing about.
So back to what I said before. Today was… 'Normal'. When I say normal, I mean normal to be everyday life in the Scottish Highlands. I woke up to rain and wind. The day progressed to rain and wind, with the fog setting in. From where I sit right now I could not say for sure whether lack of visibility stems from the fog or the darkness, but nonetheless the rain continues to run down the windows and off of the roof. Honest comment here: I consider myself an outdoorsy person. I've always prided myself with being able to survive long cold hikes or clean fish or even get a little dirty. But windstorms with heavy rain for days on end? The bike ride to school seems to get longer every time.