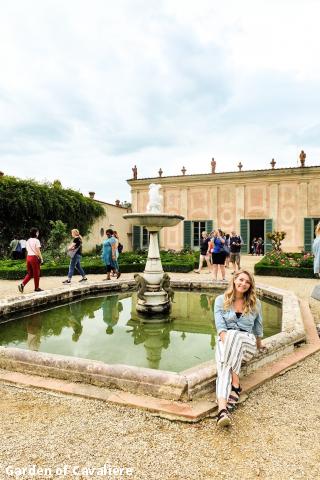 By: Rachel Abma, Langara College, winner of the BC Study Abroad: Stories from Abroad Scholarship
Study Abroad Destination: Italy and London
While my trip so far has been amazing, it's no secret that travel can be exhausting. I visited Florence on the third week of my European Field Study, and living out of a backpack in close shared quarters and walking for hours each day was starting to wear me out. I am not one to feel homesick, but the constant moving and lack of familiar comforts was making me miss my beautiful Vancouver spots that I frequent when I need a little time to recharge.
The weather had not been quite what we expected from Italy in May as a huge storm front seemed to be chasing us to each destination, and our previous week in Rome mostly consisted of busy exploring in the bustling city before being forced to hide away in our campsite drenched from a poorly timed downpour. Although I was excited to explore the famous culture of Florence, I was in need of a bit of solace. The Duomo, David, and the many incredible sandwiches, pastries, and gelati that I consumed in Florence were all incredible experiences, but my favourite afternoon of all was one spent perusing through the gloriously rain free Boboli Gardens.
Nestled behind the commanding Pitti Palace, the stunning green expanse was a sight for sore eyes. The garden feels much like an open-air exhibit with rich layers of cultural, natural, and architectural history folded into its immaculate landscaping. I did not have a fully guided explanation of all that the garden encompasses, but from what I gathered the garden has been under construction since the 15th century before it was bought by Luca Pitti and then expanded greatly to resemble its current state once it fell under Medici family ownership. One of the things that I have found so romantic and intriguing throughout my stay in Italy is the great production behind every historical site we visit. You are hard-pressed to find a building, or garden, or piazza that did not undergo years of planning, building, and competing architects whose sole purpose in life was to create a space, building, or piece of art more beautiful and important than anything before.
The Boboli gardens uphold this tradition, and I found that this excellence in artistic expression married with the natural setting and breathtaking views of the city quickly stole my heart. The Roman and Renaissance sculptures are as usual a sight to see, and the peony-filled Garden of the Cavaliere had a truly dream-like air. Paradoxically overwhelming and serene, I highly suggest that any visitor make this stop a priority when in Florence. I was now ready to embark on the rest of my journey, refreshed and forever enchanted by this special place.