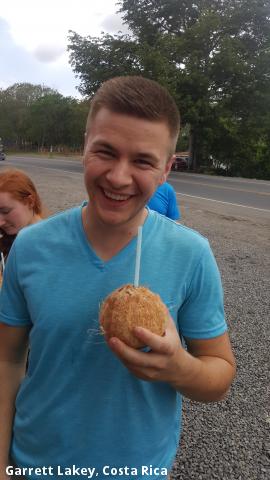 This first week in Costa Rica has been very enjoyable. Flying for the first time has been very exciting and long. The first thing I noticed once we landed in Costa Rica was the extremely intense humidity. It's like opening the door to the steam room at the swimming pool. The driving style is very different from driving in Canada. Pedestrians do not have the right of way, and there is constant honking in the streets. Drivers are also very aggressive not hesitating to cut each other off to get onto the road.
During this past week, I have been to San Jose, the dry Pacific coast, the mountain town of Monte Verde, La Fortuna, and just recently the Caribbean town of Tortugaro. The town of Monte Verde is very cool. To get to this place you ascend from the lowlands of the pacific coast up into the mountains. It is a gravel road drive, however in surprise as you near this town the roads begin to be made of asphalt. The town itself is very tourist-driven which you feel as you drive through. It would be a fair comparison to Jasper National Park in Alberta. Monte Verde is known for its cloud forests which contain huge amounts of biodiversity from plants to birds to insects.
On the Caribbean side there is a town called Tortugaro. The only way to get to this town is by boat or aircraft. I took a boat, which takes you through these amazing canals for about 1.5 hours. Wildlife like crocodiles and birds are seen while passing through these canals.
When eating fruit in Costa Rica, it's night and day compared to Canada. The month of May is perfect season for mangos. Whether you are eating pineapple, watermelon, mangos, or bananas, the rich fresh sweetness is something you will never taste in Canada. I have eaten a lot of rice, beans and chicken, which is common to eat for breakfast, lunch or dinner. Costa Rica is also very involved in the conservation and protection of their country's biodiversity. They have gone from 30 percent of the country consisting of forested lands to 50 percent. Here you also pay a tax with gas which is put towards habitat reconstruction. The people here are very happy and very understanding. They always try to help me with my Spanish. There is a saying here which sums it up perfectly called "Pura Vida", meaning pure life. 
By: Garrett Lakey, College of New Caledonia. Winner of the 2016 Stories from Abroad: British Columbia Study Abroad Scholarship.