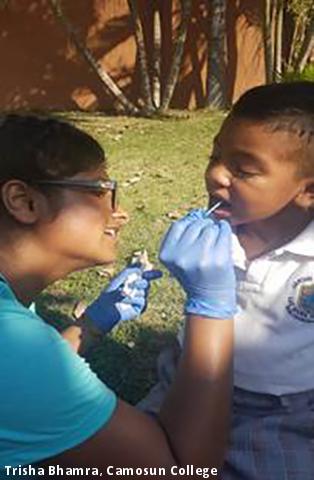 By: Trisha Bhamra, Camosun College, winner of the BC Study Abroad: Stories from Abroad Scholarship
Study Abroad Destination: Mexico
My next favourite place was Circo de la Ninos. This place was actually started by one of the producers of Cirque du Soleil. If you know me at all….you know how much I love Cirque du Soleil. This place is special because it empowers young children and youth to take part in something outside of school and it inspires them to work towards to things that may seem impossible at first. Glades, who works closely with Circo de la Ninos, tells us that the main goal of this place is to make all kids feel they are all on the same playing field. Whether their parents are rich or poor, white or Mexican. The Circus makes this program available to everyone from every background. It is definitely not a traditional circus school where your kids grow up to joining Cirque du Soleil. It is more of a place to bring the young minds of the community together and help build their confidence and push their limits. 
The next fours days were spent in the clinic seeing patients from all around the town. We had set up the clinic in entre amigos and we worked 10 hours every day for 4 days in a makeshift clinic where beach chairs were client chairs, fold up wood kids chairs were the clinician chairs and the "cart" for all our equipment was a storage box from the entre amigos community centre gym. The whole clinic experience was challenging yet rewarding. We had to work with the resources available and the situation was not ideal. It was extremely hot and we had less than ideal ergonomics during the clinic hours. It was inspiring to see our team show up every day ready to make a difference.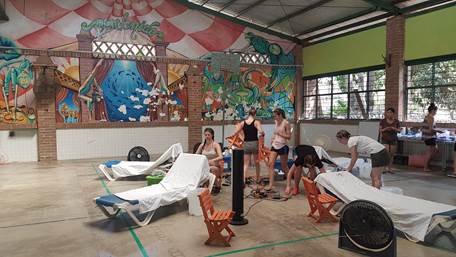 Overall, it was a great experience even with all the ups and downs throughout our day......happy and grateful clients at the end of the day made the whole experience worthwhile. It definitely inspired us to take more of an active part in community service and giving back to the people who need the dental care most. Leading up to the clinic we had the opportunity to go see kids at kindergarten schools and the casa clue to teach all the kids about prevention and dental care. Especially since they are the future. The kids were so eager to learn and happy to have us there. I can't wait to go to more schools next week and do some more health promotion!