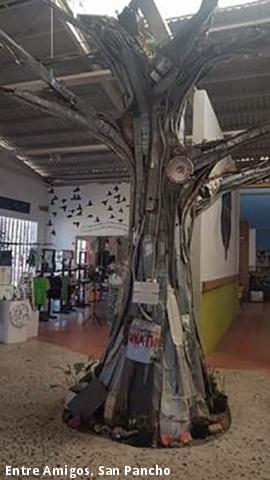 By: Trisha Bhamra, Camosun College, winner of the BC Study Abroad: Stories from Abroad Scholarship
Study Abroad Destination: Mexico
Well, after all the chaos of last-minute packing, trying to gather our things on time and catching the god awful 6 am flight to Mexico…WE FINALLY MADE IT!!!! As soon as we exited the aircraft in Mexico there was a huge wave of heat and mugginess. It was mere 30 degrees with 96% humidity. No big deal! The heat wasn't the problem… I was worried about what the humidity was going to do to my already voluminous hair. Well, let's just say my hair had its own zip code in Mexico.
We took a 1.5-hour taxi ride to San Pancho from Puerto Vallarta and on the way, we stopped at a supermarket called MEGA for some grocery, shopping, etc. San Pancho is an extremely small town with local grocery shops and minimal variety. This was our chance to buy whatever we wouldn't find in San Pancho for ourselves and for the clinic. After arriving in San Pancho we spent the next two days acclimatizing and exploring the town. We found the beach in no time, especially since it was a 5-minute walk from our home - and man was it beautiful. 
Before discovering the beach I was feeling a little bummed out about the town but the beach really adds to the beauty of the whole place. The town is a small hilly town surrounded by a jungle with some 400 different species of birds and some majestic jaguars. After the first two days of relaxing on the beach with pina coladas and bottomless guacamole and chips, we started our field school with health prevention and promotion during the daytime at kindergarten schools and La Casa Clu, followed by cultural events regarding the town in the evening.

The town of San Pancho has a lot more going on than what meets the eye. There is entre amigos, a community centre in town bringing about some major changes for the community, a jaguar conservatory, a bird conservatory, Circo de la Ninos and a majestic beach. My favourite place was the entre amigos and Circo de la Ninos. Entre amigos started under a mango tree years ago in hopes of bringing arts to the people of San Pancho and now it has become so much more. This place not only teaches women and children practical skills they employ to start their own businesses but it also empowers women to take charge. It supports the youth and adults alike in pursuing higher education and doing things they once thought was impossible. It has made computers accessible to people of San Pancho and made a huge impact by bringing forth a recycling and reuse program.
The coolest thing about this place besides all the amazing things listed above is the fact that everything in the building is made of recycled or reused materials. The walls are made of plastic bottles, they repurpose glass bottles into cups, bowls, etc. and sell them in the gift shop and anything that can be reused is made available to the public to "buy" with entre amigos pesos. Volunteers at entre amigos get paid in entre amigo pesos that they can later use to "buy" things from them. I can seriously go on and on and on about this place. My hope is to one day play a role in making a difference in the lives of the people of San Pancho through entre amigos. Also, did I mention that was the place where we held our clinics?  Yes pretty cool I'd say. And this place is a public library for the people of San Pancho.
ENTRE AMIGOS-à