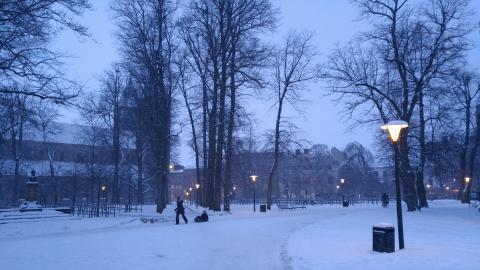 By: Matthew Rosenthal, Royal Roads University, winner of the BC Study Abroad: Stories from Abroad Scholarship
Study Abroad Destination: Lund, Sweden
I have been home for a few days now and it has been hard to get back into the routine of my daily life. I arrived around midnight so I am not being affected by jet leg, but I am experiencing a little bit of culture shock, or maybe it is reverse culture shock. Having to drive everywhere and sitting in traffic after three months of biking, training and walking is taking some time to get used to. I also had a stack of mail that I had to go through and deal with, along with tax papers, appointments and social requirements to attend. I am sure I will adjust, I am very happy to be home with my partner, my guitars and to be in my own bed. I could do without all the rain though!
Speaking of weather, it is crazy to look back on the weather I just lived through for three months. The entire lead up to my time in Lund, Sweden, people from Lund were telling me that the winter was mild and it never snowed. It snowed about 40% of the days I was there and it was extremely windy and cold. When I was there, I remember hearing from other students about how the news was talking about Siberian winds blowing in. Well, they blew in and for a week and a bit the daily highs were a bone chilling minus 15 degrees with extreme wind. Walking outside in weather like that is an interesting experience, I like to think it builds character. I will say though, the town was beautiful when the snow was falling and the cafés were just inviting you to come in and get warm with a hot chocolate.
My exchange semester abroad is something I will never forget. I met three friends who I will keep in contact with and hope to see again, I got to study at a top 100 world ranked school and I got to start learning a new language. My entire experience was great. I would recommend it to anyone who is reading this to get out of your comfort zone and try it. Plus, if you do an exchange somewhere in Europe you are so close to a lot of awesome places. I managed to get to Amsterdam, Prague, Copenhagen and Zermatt while I was studying. Do not let fear dictate how you live your life. Once you get to your destination, your instincts will kick in and you will be amazed at how well you can adjust and the fun that you can have.