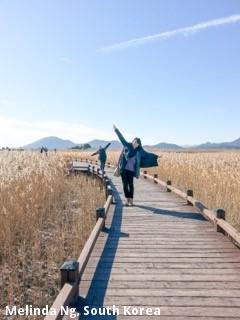 Travelling is a big must-do for study abroad students. Take advantage of the fact that you are at a school surrounded by students who share the same mindset as you. You can learn about one another during your travels together, and better yet learn about a new culture together. Chances are that you are also geographically a lot closer to several different cities and countries than you were in Canada too (since Canada is so spread out)!
During my exchange in South Korea, I was able to visit Japan, Hong Kong, and Malaysia. However, before checking those places out, I did not forget to visit the cities within my host country first. In fact, I really enjoyed inter-city travel within Korea just as much as I did travelling internationally. The time to travel was shorter and a lot cheaper.
One of my favourite trips within South Korea was to Suncheon in January 2014. I took a weekend trip with three friends I met on exchange. The four of us took a four-hour bus ride from Seoul to Gwangju, a city located near the tip of the South Korean peninsula, and stayed at a hostel. On our first day, we saw the bamboo forest at Damyang and tried the famous bamboo rice with a popular Korean dish called the Dak Galbi Chicken. We also rode our bikes along the riverside and explored the city. On our second day, we went to the reed fields in Suncheon Bay Ecological Park where there was a long boardwalk on top of the swamp with reeds that grew a golden yellow in the wintertime. We also did a small hike up a hill within the park to see the view of the whole entire park. It was beautiful and we couldn't stop taking in the views. After the seeing the park, we had to make time for fresh seafood since Suncheon is a seaside city.
My other trips around South Korea included the most amazing but tiring hike of my life in Seokcho, adventuring through green tea fields in Boseong, seeing the 2012 World Expo site in Yeosu, flying to Jeju Island, biking along the Korean DMZ at Paju, and hitting up beaches in Busan.
Though travelling internationally can be a great treat, it can sometimes overshadow the hidden gems that can be found within a single country. Half of the cities I visited aren't the top cities travellers may choose to visit during their time in Korea. However, I found that smaller cities often specialized in certain things. For example, the Boseong green tea ice cream was absolutely to die for - I had two within a couple hours!
By: Melinda Ng, a member of BCSA Writers in Residence team and a former #tweetsabroad scholarship winner. Melinda majors in Communications, Art, and Technology at Simon Fraser University.