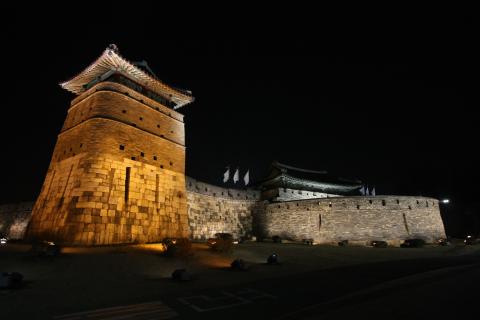 By: Aaron Siebenga, Simon Fraser University, winner of the BC Study Abroad: Stories from Abroad Scholarship
Study Abroad Destination: South Korea
After midterms, I went to Gwangju for a day to tour a lab. I also tried Korean poutine (with shredded cheese instead of curds) and visited the May 18th National Cemetery.
I then went to Busan to see the Busan Fireworks Festival, which was the best fireworks show I've ever seen. They had three blast barges and a bridge loaded up with lights, sparklers and fireworks. I also visited a seaside Buddhist temple, relaxed in hot springs and met more Pokemon Go friends.
Next was Taiwan, where I went with Dan and Erik. This was probably one of my favourite parts of the trip; we went to a huge Pokemon Go event, visited many beautiful temples, summited Taipei 101, and had some last-minute hot springs before our flight home.
The weekend after that was Jeju with Erik and Juho. We rented a car, visited horse-shaped lighthouses, lava caves, and an extinct volcano. In Seogwipo, we rode a submarine and saw several waterfalls, and on the last day Erik and Juho climbed Mt. Hallasan (the tallest mountain in Korea) while my asthmatic self visited a folk village instead.
After some visa shenanigans, I went to Beijing to see the Great Wall and the Forbidden City. While I did see those (as well as Tiananmen Square and Mao's Mausoleum), Beijing was more of an ordeal for me than a vacation. The haze made me feel physically ill by the third day, and the crowds and behaviour I saw there really wore me down.
For my final trip outside Korea, I went to Macau and Hong Kong. In Macau, I explored Asia's largest casinos, watched 233m bungee-jumps from Macau Tower and saw the House of Dancing Water. In Hong Kong, I cruised on a 20-minute glass-floor gondola, rode the famous Star Ferry and Peak Tram and watched their waterfront transform into the Symphony of Lights.
After finals, I did some solo trips, meeting Erik again to explore Hwaseong Fortress in Suwon and to take a DMZ tour. My Korean friend from Canada flew over to explore Seoul with me; visiting his family, experiencing several palaces, temples and museums, and wearing traditional clothing. We finished off with a road trip to Jeonju (visited a famous makgeolli restaurant), Busan and Gyeongju (Food poisoning, but saw my friends again)