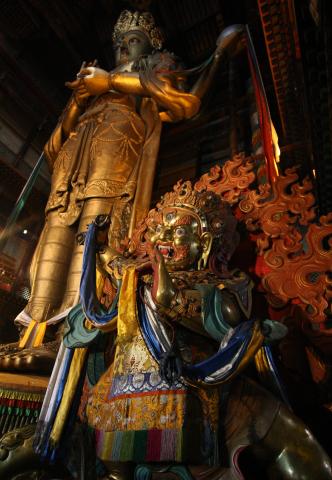 By: Aaron Siebenga, Simon Fraser University, winner of the BC Study Abroad: Stories from Abroad Scholarship
Study Abroad Destination: South Korea
In Gyeongju, I got a taste of Korean history by visiting the 9th-century Silla Tombs, the restored Woljeong Bridge and Donggung Palace Complex, and the Gyeongju National Museum. I also met friendly locals through Pokemon Go, who treated me to a nice traditional dinner and showed me Bulguska Temple and Seokguram Grotto.
Muju's a village in the Korean mountains known for their Firefly Festival each September. I went there to experience small-town life in Korea, and although almost no one I met spoke English everyone was very friendly and welcoming. I saw traditional dances, lit sky lanterns, and went up into the hills to watch the fireflies frolick. I also ate a LOT of festival junk food.
Mongolia was probably the most unique and surreal place I've been to so far. It's almost on the other side of the world from Canada, and despite sharing a similar climate the culture is very different. I had a great time there exploring the museums, temples and monuments, and had some good discussions with the locals about how tourism has affected their culture. I'll definitely be coming back here some day.
Unlike the prior 4-day solo trips, I went to Japan for 10 days over Chuseok (Korean Thanksgiving) with several other exchange students (including Erik and Juho). We visited Osaka, Nara, Kyoto, Mt. Fuji and Tokyo. Osaka and Kyoto were overrun with tourists due to a public holiday, but the ryokan at Mt. Fuji was a good break from it as I finally found some silence among the mists and mountains. Those same mists kept us from seeing Mt. Fuji, unfortunately. Unlike Osaka and Kyoto, Tokyo was a blast. I saw a ceremony at Fukagawa Fudo-do Temple involving a large bonfire and several taiko drums, played Mario Kart in virtual reality and bought a ridiculous amount of anime and Pokemon stuff.
Jinju's a small town near the southern coast known for its Lantern Festival, but unlike Muju it wasn't very fun since a typhoon came through and destroyed the lanterns. I ended up going to nearby Tongyeong to see Korea's longest cable car, as well as seeing what I could find in Jinju. I explored a fortress, watched a Korean student play, visited a bullfighting arena and listened to a musical fountain.