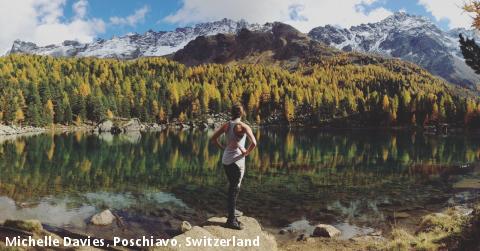 By: Michelle Davies, Thompson Rivers University, winner of the BC Study Abroad: Stories from Abroad Scholarship
Study Abroad Destination: Germany​
Before leaving from Canada for Belgium in 2013, as an exchange student, I was offered the sage advice that nothing is "better or worse, just different." I was encouraged to approach every situation with an open mind. Though I strived to do just that, I found myself comparing my host and home country. From the transportation to the food, Canada, in my mind had it all backwards. Upon returning to Canada after 11 months, I experienced reverse culture shock questioning and comparing everything between the two countries.
When I travelled to Switzerland for my second study abroad experience in 2015, I felt my perspective going into my exchange was more balanced. I had reflected on my tendency to compare and realized that I wasn't alone in doing so. While I knew this good and well, I still found myself chalking things up against one another. When faced with something unfamiliar, I resorted back to what I knew and often compared ways of doing things. It was like holding up a black and white picture of a city 100 years ago to that of one in colour today. 
Returning to Switzerland to study and take on research for a second time this summer, I go with the intention of genuinely seeing this country and reflecting on my own each no better or worse than the other. Aiding me in the process is an understanding of myself through the context of the Intercultural Development Inventory (IDI) that I completed as a Study Abroad Ambassador. By comparing my home and the country of Switzerland and others I travel to, I only limit myself and my mind. By moving away from a place of polarization, I will be able to better appreciate each respective countries differences, histories and unique stories, including my own. While it is no small task, I intend to experience the countries, people, and festivals in a state of mind as free of bias as possible.
Wish me luck, and I hope you too are able to experience you exchange rooted in the belief that "It's not better or worse, just different."