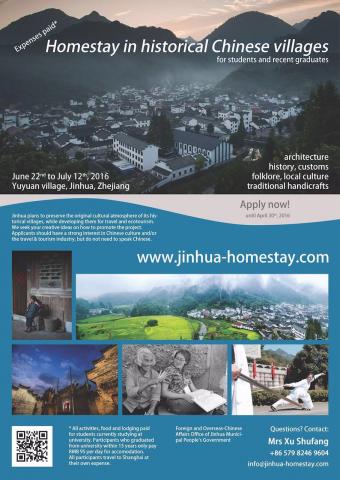 Are you a BC student or a recent graduate interested in Chinese culture and/or the travel & tourism industry? If you are, there is an opportunity for you to spend three weeks from June 22 to July 12, 2016 in the home of a Chinese family in an historical village! 
The Jinhua Municipal Government of Zhejiang Province, China, plans to preserve the original cultural atmosphere of Jinhua historical villages, while developing them for travel and ecotourism. To do so, they are looking for 5 BC students and/or recent graduates to help promote home-stay tourism in Jinhua's historical villages. Application Deadline is April 30, 2016. 
For more details on this opportunity, visit www.jinhua-homestay.com or contact Mrs Xu Shufang at info@jinhua-homestay.com.