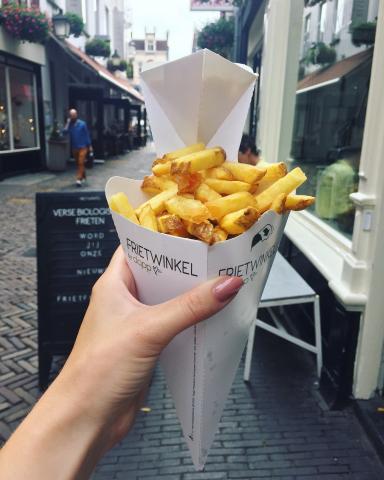 By Cheyenne Rode, Vancouver Island University, winner of the BC Study Abroad: Stories from Abroad Scholarship, member of the Writer and Residence Team
Study Abroad Destination: The Netherlands
The signature foods of the Netherlands are items such as raw herring, bitterballen, stroop waffles, and fries with mayo. My favorite by far was the fries with mayo, but not all my experiences with food in the Netherlands were positive. One of the first challenges I faced on my exchange to the Netherlands was grocery shopping.
A little background on my struggles starts with the troubles I had with my phone. Before I left on my exchange I had attempted to unlock my phone, but when I got to my destination and tried to put a different sim card it I found that I was unsuccessful. After many long phone calls by my mother to my phone company back home I had given up on unlocking it and accepted the fact that I could only use it on Wi-Fi. This wasn't a big issue and I found myself getting along quite well without it. Except for when I needed to translate things.
The majority of these times was when I was grocery shopping. I found myself looking for familiar items and brands in the store to navigate myself. Items such as produce and dairy were easy, but I found myself guessing about flavors and ingredients when buying packaged goods. The downside of this was when I bought items for a recipe and it turned out to be completely the wrong or when I bought an item so foreign to my palate that I was unable to eat it. One of the the most strange and confusing items I bought was a lasagna. After cooking it I found it was pink on the inside and thought it was not cooked properly or had gone bad. After translating the label I found out I had bought a salmon lasagna! Definitely a flavor of lasagna I never thought existed. On the other hand, the benefit from this was that I was trying a large variety of new foods and flavors. Luckily for me I don't have any allergies so that wasn't a concern. In the end, as much as it was annoying buying the wrong item I look back and am glad I was pushed to open my horizons and eat local foods and flavors.