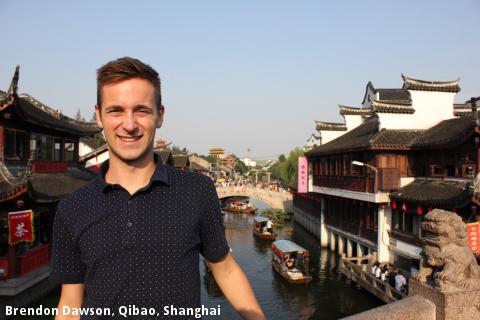 First we will start with a quick update from last month - I successfully obtained my residence permit! I am legally entitled to leave and remain in the People's Republic of China for the next year. I feel good about that.
The month of October began with the celebration of the Golden Week - the Chinese National Holiday. The entire experience from my perspective was anything from relaxing. The city quickly empties as urbanites flock to their home provinces, this exodus is matched only by the mass inflow of provincial tourists coming to partake in the pleasures and sights of the city! Some of these rich experiences are seeing foreigners - the stares and gawks have been occurring at a larger rate than normal over the week. In addition, there have been fighter jets flying above us all week in celebration of Chinese prosperity and growing economic importance. Golden Week is notorious for large crowds and long lines so I opted to rest for the first few days and visit some of Shanghai's lesser known tourist attractions.
I went with three of my friends here to a small water village called Qibao. We were immersed in the traditional Shanghainese architecture and spent the afternoon strolling through the alleyways looking at small pottery shops and a large temple. As you can imagine, a city as large as Shanghai has a plethora of tourist attractions and it was refreshing to see that these smaller lesser known locals rival in spectacularity to the most popular such as the Yu Gardens, the Bund, and South Shaanxi.  
On another note the weather has begun to change, fall in Canada is always a time of crisp air and colours; the experience in Shanghai appears to be a little different, the humidity is rising and so is the air pollution. I am hoping that this trend will change as the grayness that this entails is a little demoralizing. Regardless, there are plenty of other things to keep me in a good mood and I am looking forward to the next few weeks as the term comes to a close.
By: Brendon Dawson
Brendon is currently studying International Business at the Shanghai University of Finance and Economics under support of the Canada-China Scholar Exchange Program financed both by the Canadian Department of Foreign Affairs and the Chinese Government. He originally hails from Courtenay, British Columbia and completed his undergraduate degree at Queen's University in Ontario. Brendon has participated in exchange programs to France, Germany, Indonesia, and Japan and enjoys traveling, cooking, and has a peculiar interest in trains, locomotives, and public transit systems. He will be studying in Shanghai for one year before returning to his native British Columbia.
If you are in China or the Shanghai area please feel free to reach out to him by telephone or WeChat.
Contact:
+86-186-2157-1453
Wechat: brendonfdawson