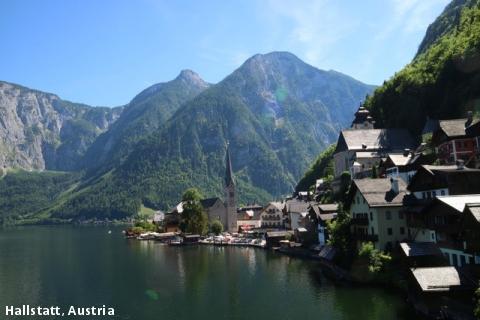 By Adeline Hadijanto, International Hotel Management student at Royal Roads University and a member of the BCSA Writer in Residence Team.
It has been over three months since I returned from exchange, and I still feel that part of my soul was left in Austria. Let me tell you why Austria is one of the best places you could go for your study experience!
Canadians are known to be some of the friendliest people in the world, but in my opinion, Austrians are just as easygoing and approachable.  Most of the people I met were very well versed and curious to learn more about me and my background in an authentic way. We had fun conversations and exchanged our cultural knowledge. My host-campus, IMC University of Applied Science Krems, and the Erasmus Student Network (ESN) also arranged many events for exchange students, and they even created a Facebook group that allowed me to mingle and meet people from all over the globe.
ESN is a non-profit student organization that represents international students in Europe. Through the Facebook group, we met online and introduced ourselves before we even got to Austria.  On my second day in Austria, I attended my first ESN event, where I got the chance to meet a lot of Erasmus students, as well as other exchange students from South-East Asia, South, North and Central America. An 'Erasmus student' are those who are on exchange from a European Union (EU) country. Making new friends was not a problem at all – I met people from all over the world!
Another reason to consider Austria for your study abroad experience is its location.  Austria is centrally located and it is very convenient to travel around to other European countries. Transportation in Austria (and Europe in general, is very well developed, so it was very easy for me to travel within and outside the country. One of the best tips I received from my new friends was to purchase an 'OBB Travel Card'. The card cost €19 and it allowed me to receive up to 50% off for every ticket I purchased! I also found a very useful application called 'Go Euro', where you could enter the details of your trip (dates, starting and final destinations) and it would list all of the possibilities for planes, trains, and buses, including the prices! This was a very helpful way for me to save money while traveling, so that I could do a lot of it. I felt confident traveling on my own in Europe, because everything is accessible and they have advanced interconnections between countries and many options of transportation.
One of the most surprising parts about Austria for me was its beautiful scenery. Similar to the natural beauty of Canada, there are tons of stunning lakes where you can swim in the summer and the Alps provide gorgeous mountain views that you can enjoy from just about any location. One of my favourite destinations was Hallstatt, one of the UNCESO World Heritage Sites. It is a historic small village that was built for the salt mines – and it is an absolutely jaw-dropping attraction. Whether you take a panoramic cable car between mountains, enjoy a peaceful boat rides on a quaint lake, or zip down the world-class ski slopes, there are many ways to get close to nature in Austria.  
My study abroad in experience in Austria was a great adventure and has inspired me to explore even more. I mean, what more could you want?