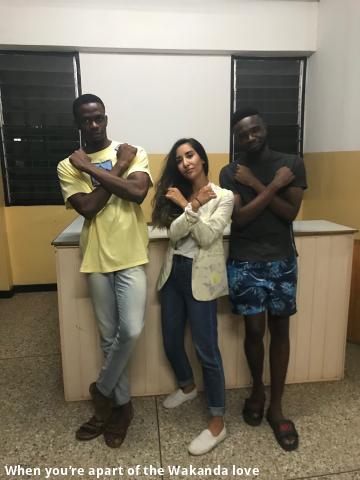 By: Razma Hazarat, Simon Fraser University, winner of the spring 2019 BC Study Abroad: Stories from Abroad Scholarship
Study Abroad Destination: Accra, Ghana
Due to the regularly skewed perceptions of Africa held by many in the Western world, I received some negative reactions to my decision to travel to Ghana. However, my decision to stick with my gut and trust my research has been incredibly rewarding. All of the international and Ghanaian students I met were incredibly kind, generous, humble, and down to earth. I didn't run into a single bad apple, and I made amazing life-long friends.
Studying in Ghana has certainly been quite an experience. Although I made plenty of friends from other international programmes, I did my best to ensure that I sat next to other Ghanaian students. At first, this was a daunting task. I'd walk into these large lecture halls that seat nearly 200-300 students and all of a sudden it felt like it was my first day of kindergarten all over again. First things first, I thought to myself, you MUST find an open seat underneath the ceiling fans (there are no ACs!)... you are not climatized to the heat and you absolutely cannot be an awkward sweaty mess while trying to make new friends.  Second, look friendly, send a gentle smile to others around you. Clearly I am a visible outsider, and although I was super nervous, I had nothing to worry about because Ghanaians absolutely love making friends with internationals. If you tell them you're Canadian, be prepared for every other person to tell you they have relatives in Toronto (is this true? I don't know, but it's funny once you hear it after the 5th or 6th time). Teachers there also adore Canadians. If you're ever struggling with culture shock or need extra time on assignments because you're travelling around the region, they will give you extensions! Professors in Ghana just want you to enjoy the same love that they have for their beautiful country and want you to, of course, recommend their university to other students for studying abroad.
Speaking of travelling, some of my favourite memories abroad was travelling to different regions, especially walking around the bus (trotro) loops with very lost and confused faces and having groups of men more than happy to all collectively walk you to where you need to go (obviously trust with caution). I certainly would not have received the same support back home!