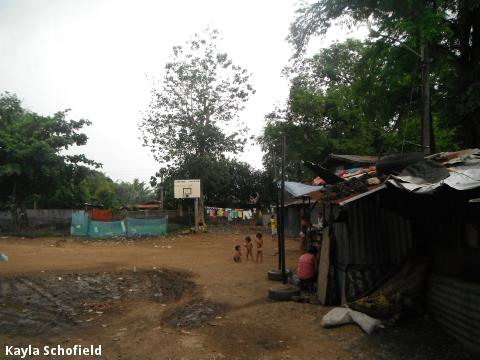 It is hard to prepare yourself for a different culture because you never really know what you are going to get. Before travelling to the Philippines, I did research, but it did not come close to preparing me for the culture shock I was about to experience.
Upon arriving in the Philippines, the weather was hot and humid, which was expected. We gathered our things and proceeded to climb into a van with our entire luggage. I was definitely not prepared for the scariest drive of my life! In the Philippines, drivers and motorcyclists weave in and out of traffic, sometimes travelling at high speeds on the very crowded roads.
After settling in, we explored the neighbourhood. I never imaged that we would see the roads littered with garbage and so much pollution in the air. I have heard from several locals that the poor are very poor and the rich are very rich and it shows. We had the opportunity to explore a small area around our first work site. This area is filled with poor people. While the muddy walkways and area are surrounded by garbage, inside the barbed wire fences, the yards are well kept. This area demonstrated the poor community. Right next to this there are mansions and very beautiful houses, which shows the rich community. The rich and the poor live intertwined within each other. I feel privileged to be helping such unfortunate people improve their oral health.
On our first weekend, we decided to take a break from dental work and explore another island. We made the two-hour ferry ride to Bohol Island. On our first night, we went kayaking on Abaton River. We watched fireflies hover above the mangrove trees. Over the next two days, we experienced as much as we could. We zip lined across a ravine and visited a tarsier sanctuary. We proceeded to adventure up to the Chocolate Hills. In this area, it is said that there are more than 2000 hills. After leaving the hills, we made our way back into town and visited an old church, built in the 1500's. The church still held services up until October 2013 when the Philippines was struck with a massive earthquake and a typhoon, which was the largest to ever to occur on land. The church suffered damage and is now raising money to rebuild. We also explored a local food market where locals sell fruits, vegetables, fish and other meats. On our final day on the island, we went "dolphin chasing" and snorkelled with the turtles and fish.
Over the next couple of weeks we will be focusing on helping school children improve and maintain their oral health. I cannot wait to see what other things I will get to experience. 
By: Kayla Schofield, winner of the BCSA Stories from Abroad Scholarship