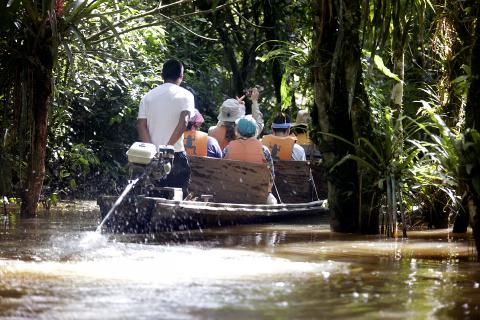 In May 2020, Kwantlen Polytechnic University (KPU) is inviting students to take part in a two-week field school to Colombia's Calanoa Natural Reserve, an artistic, ecological, and community-focused learning centre located on the shore of the Amazon River. The Amazon makes up a third of Colombia, yet it's one the country's least-explored regions!
The Calanoa Natural Reserve is at the very heart of the Amazon forest and its surroundings are an endless source of marvel. After a cultural tour of Bogota, students will travel south to the Calanoa Natural Reserve where they will engage in creative activities, trek and canoe into the forest, and learn indigenous knowledge from local guides and shamans.
This 6-credit course and field school, open to non-KPU students, uses an interdisciplinary approach to explore themes of sustainability, conservation, community development, and indigenous perspectives. Application deadline is September 30, 2019.
Field school highlights:
Learn about Colombia's history, culture, and current issues from local experts.
Trek through the tropical rainforest and boat down the Amazon River.
Search for river dolphins by the Peruvian shore.
Tour indigenous villages and meet with shamans, local artisans, and master craftpeople.
Engage in creative workshops including pottery making, drawing, photography, and so much more.
Link
For more information and to apply, visit KPU's field school website.