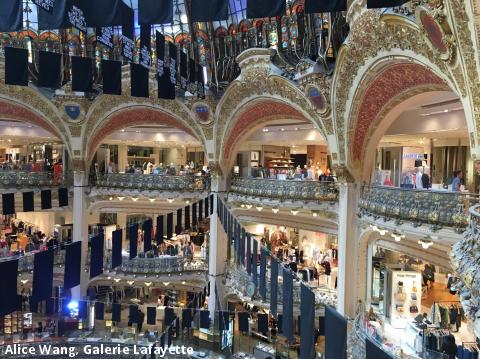 By Alice Wang, Kwantlen Polytechnic University, winner of the 2017 Stories from Abroad Scholarship and member of the BC Study Abroad Writer in Residence Team
My Chinese heritage became very salient to me during my study-abroad. At every city I went, I had someone, often a man, shout out greetings to me in Mandarin on the street. Why they would even think that to be an appropriate behavior is beyond me. And yet these borderline discriminatory remarks enticed me to reflect on what it felt like to wear my ethnicity so visibly around me.
Born and raised in China, my family immigrated to Canada sixteen years ago. Since then, I have acquired Canadian citizenship and accustomed myself with the label "Chinese-Canadian." I retained the first qualifier—"Chinese"—even though I identified more with the latter because 1.) it felt like the appropriate thing to do given the Canadian pride for multiculturalism and 2.) because my parents have insisted that I do not forget my heritage. To spare others from this complicated self-identification, I usually just tell them that I am from Canada and let my race fill in the gap between my ancestry and my adoptive home. Rarely were people so racially-inclined to ask for more.
But being a Chinese-Canadian posed its own dilemma when travelling abroad. At tourist sites, I found myself at the receiving end of condescension when people ascribed me with the stereotypes of being Chinese. Stories of Chinese tourists damaging historic sites, overstepping institutional protocols for personal gains plagued my consciousness. At the Versailles Palace, I was mortified when a Chinese family cut in front of the line until other visitors viciously called them out for it. I shouldn't have been embarrassed by this episode—it happened independent of me; people from all ethnicities cut lines anyways—but I did feel a strong sense of shame. Under the anxiety of racial consciousness, I had no choice but to shoulder the weight of our collective, cultural disgrace.
A few days later, however, I found myself in a diametrically opposite situation. At Galerie Lafayette, one of Paris' high-end department stores, the boutiques were packed with Chinese shoppers. Capitalism bustled in Mandarin. Here, Chinese tourists were welcomed with open arms; their idiosyncrasies, tolerated if not pampered. The staffs at Louis Vuitton eyed me with high hopes. They served me drinks; they doted over me when my friend showed the slightly inclination to buy something. Emboldened by their vivacious hospitality, I decided to revenge try a coat. Oh, how the sales associates fluttered around me—searching for the right size; adjusting my belt—like woodland creatures helping Snow White. In the most cynical, absurdist way, the dilemma of racial discrimination finds its resolution in capital. There will always be stereotypes against my heritage—as there are against all other groups of people—but within a larger social matrix, commanding the capitalist mode of production bypasses the impossible task of trying to demonstrate one's cultural integrity. At the most macroscopic level, only capital transcends race.