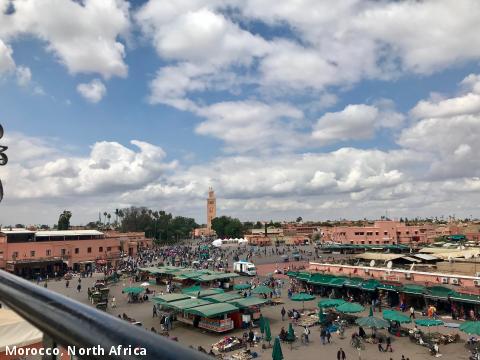 By: Drew Moffatt, British Columbia Institute of Technology, winner of the BC Study Abroad: Stories from Abroad Scholarship
Study Abroad Destination: Barcelona, Spain
As the common saying goes, don't judge a book by its cover. The same goes for countries around the world. With people having an abundance of information at their fingertips, we can easily get misconstrued as to how we perceive a country nowadays. From social media to multiple news outlets, one never knows what to believe anymore.
I've always believed in the phrase "one must see it to believe it". When travelling to Europe and being on exchange everyone was constantly worrying about my safety. During my time off from studies, I started to plan my little travels away from Barcelona. One city that caught my eye was Marrakesh, Morocco. Only a two-hour flight from Barcelona, I knew I had to do it.
As a solo female traveller in a country who's religion and culture was very different from mine, it was definitely a first, but I was extremely excited; however, once I booked it and told my family and friends, none of them were ecstatic. Media tends to portray Africa as one general country filled with violence and bad people. And I can tell you this is all far from the truth.
When I went to Morocco I have never met more friendly people. Yes, their culture and religion are quite different, but its what make this country so beautiful. Filled with vibrant colours, delicious food and spices, and proud locals wanting to show off their beautiful city, I wish I had more time to see this country - I only had five days. In addition to, I was gladly shocked to see young families travelling to this country.
Now definitely don't get me wrong, as every country, it did have its flaws. As a solo female traveller, I definitely stood out in crowds. I drew attention to myself immediately around every corner no matter how hard I tried to cover up. For single women, unwanted attention from men can happen in this country, but I can tell you its only harmless.
One of my most favourite moments was when I met a local tour guide who showed me around the souks. He said at the very end of our tour he did not want any money that instead please spread the word for people to come travel to his country. According to him, 90% of people work within the tourism industry. So here is me keeping my promise, travel to Morocco! You won't be disappointed I am sure of that.