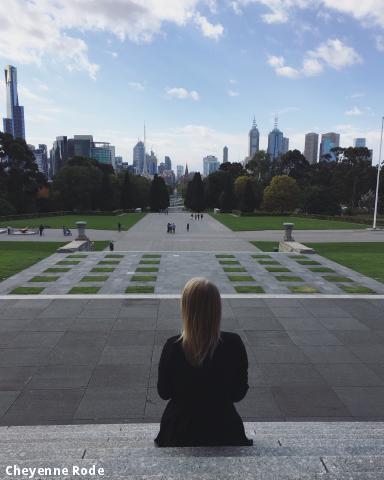 By Cheyenne Rode, Vancouver Island University, winner of the BC Study Abroad: Stories from Abroad Scholarship
Study Abroad Destination: Melbourne, Australia
Since this is my second exchange what I did not expect was to get strongly affected by culture shock. This fact might of made it worse and also because I went traveling beforehand, I believe I experienced culture shock before most of the other exchange students around me and therefore felt more alone. I love traveling too and didn't think I would get as depressed as I did about being away from home.
What I think really affected me was that was Melbourne in a way felt like home. English was the main language, people seemed similar (although a bit grumpier and with an accent), and it looked similar. Melbourne looked a lot like Vancouver with trees in the streets and tall clean buildings. What wasn't the same though was the fact that I was living with unfamiliar people, didn't have my car, and didn't get to see my friends or family. About three weeks in I got bitter about these facts. I began thinking: why was I here? It's so similar to home why didn't I just stay there? This was culture shock I realized.
For almost a week I mopped around about what I felt like I didn't have. Two things then happened to change my mind about this. First, I realized that there was no point in being sad and I should at least make the most of my time here. Second, after I started living my life not being upset I started seeing and appreciating the positive differences. For example: getting to live so close to school on residence, never feeling cold enough to wear full jeans (even though this might change), the great food places in the city, and of course the biggest perk of all getting to travel on school breaks. For Easter I went and visited a friend from home in Sydney and had an amazing time and started planning for the next long weekend and when the semester ended.
Culture shock can happen to anyone, some people say it's strange not to experience it. I realized that it's okay to miss the good things about home but you also have to look at the good things about where you are.