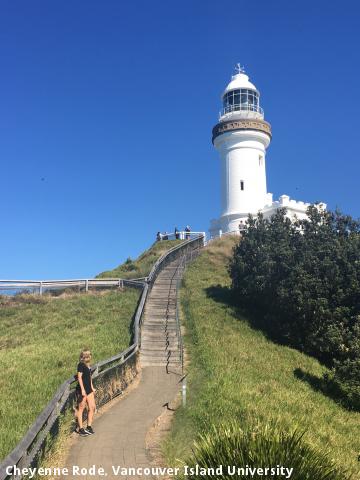 By Cheyenne Rode, Vancouver Island University, winner of the BC Study Abroad: Stories from Abroad Scholarship
Study Abroad Destination: Melbourne, Australia
The amazing thing about studying abroad is that your days can be vastly different. For example, one day you're just like a regular student. You wake up at 8 am, go to class, get a much-needed coffee, study, hang out with your friends, then go to bed.
Although, of course, there are slight differences between this day and the same one back home. The classes you go to are filled with people from another culture. These people have different accents, views on life, and socials norms. Also, the coffee you drink is tremendously better than the ones back home as you're living in the coffee capital of Australia and the friends you hang out with are also on exchange and therefore from all over the world.
Then, there are the days you get to travel, the extraordinary days. These days are the ones you'll remember for the rest of your life. One of these days for me was a day I had in Byron Bay, New South Wales. The day started with waking up bright and early (for a vacation) at 8:30 am so we could enjoy the whole day. The first thing we did was go for brunch at a cute cafe close to the Main Street. I ordered this dish that had roasted potatoes, poached eggs, hollandaise, chorizo, and halloumi cheese (had never heard of this cheese before coming to Australia but the Aussies love it), it was to die for.
Next, we went for a walk near the water and ended up at Australia's most easterly point and Byron Bay's signature lighthouse. After the walk we decided to cool off and spent the rest of the day swimming in the ocean, relaxing by the beach, and watching people surf. We ended the day by having another amazing meal at a small hidden Asian fusion restaurant and then crawled into bed exhausted from the sun. So, I'd say a day in the life of an exchange student isn't so bad. In fact, it's pretty great. #VIUAbroad