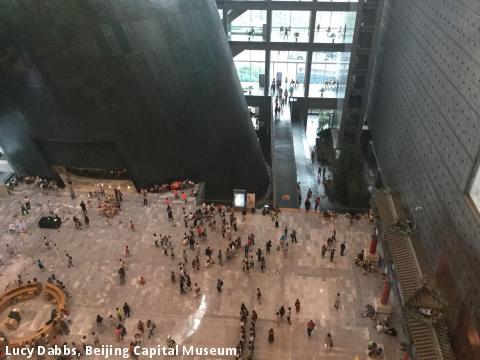 By: Lucy Dabbs, Georges P. Vanier Secondary School, participant of the 2017 Beijing International Education Exchange (BIEE) Summer Camp.
After lunch we spent three hours at the Beijing Capital Museum. The building was massive, seven stories high with flights of escalators for each floor. There was a huge circular wall up one end of the building, containing spiral hallways leading to different circular rooms within. Two sides of the building were all glass windows looking out into the city. There were many different rooms with historical artifacts and information on old China.
Many elementary schoolers were there on school field trips, and we're very interested in taking selfies with us. Despite all the interesting exhibits on every floor, by the end of touring around I found myself sitting on the stairs with some others, having our picture taken every few minutes.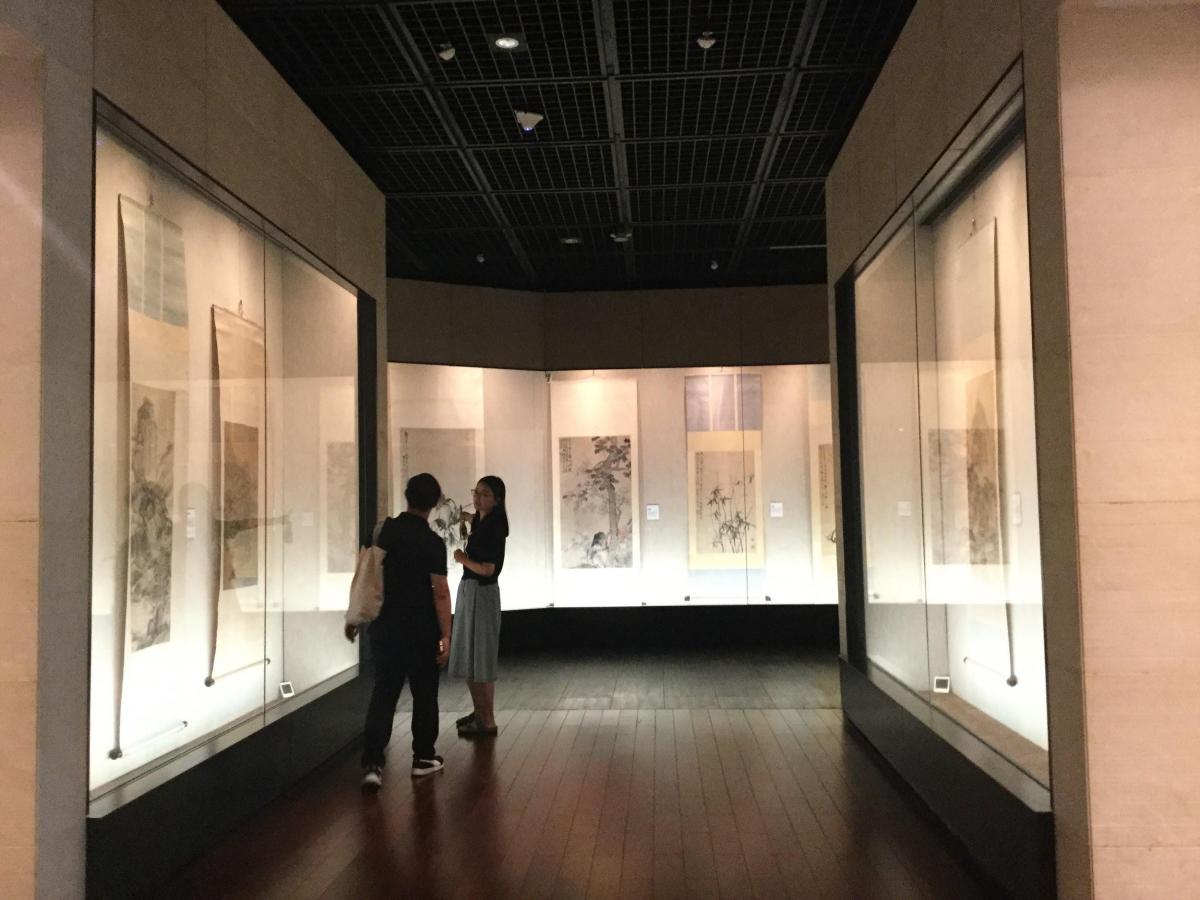 By 5:00 we were ready to go home and have dinner. It may have been a fairly easy going day but I was very tired and worn out from the week. This didn't stop me from going out to the field after dinner, though. I continued more salsa dancing and then took a break to sit in a circle with our Argentinian friends. I realized this would be one of our last nights together on the field.
We were passing around the mate when a few girls walked towards us holding a birthday cake. They told us it was their friend's birthday, and invited us to join them. As we started singing happy birthday, more people joined until sitting around the cake was a group of about thirty. Many people sung the song in their own language, and it was an amazing moment sitting in a circle around a cake in China, while students all sang a common song in their native languages. I learned that the friends had ordered the cake online, from a store nearby. It was vanilla with pears and some type of fruit that was unfamiliar. It was a beautiful impromptu celebration.
After our little birthday party on the field, team Canada has a dress rehearsal for our performance. We met at the top of the stairwell on the second floor, by the fifth set of vending machines the Beijing Royal school has. We waited in a room that seemed for dance classes, with mirrors lining one wall. There were two other groups waiting in there, one wearing feathers so tall they touched the ceiling!
We saw the other performers, with their costumes, coordinated songs and dances, sharing the same traditional backgrounds and ethnicities. Their costumes were exquisite and intriguing, though I didn't feel at all inadequate in my Canadian clothing. Each of us were decked out in dollar store moose hats, sunglasses and Canadian shirts, some with flags tucked into their ponytails or hats. Looking from face to face, we were all from different parts of the world, different backgrounds and ethnicities, and that is what makes up Canada. A mosaic of nationalities.
After twenty minutes of warming up without trying to get too warm in the nice air conditioned room, we were called in for our dress rehearsal. This took place in another performance room, twice as large with more mirrors on the walls. At the front of the room was a table with four judges sitting at it with microphones, from what I could tell they were teachers and organizers of the summer camp.
First we watched the group from Russia, the second largest to our group. They were dressed in traditional red white and gold fringed outfits and did a Russian dance. It was very professional, I was impressed.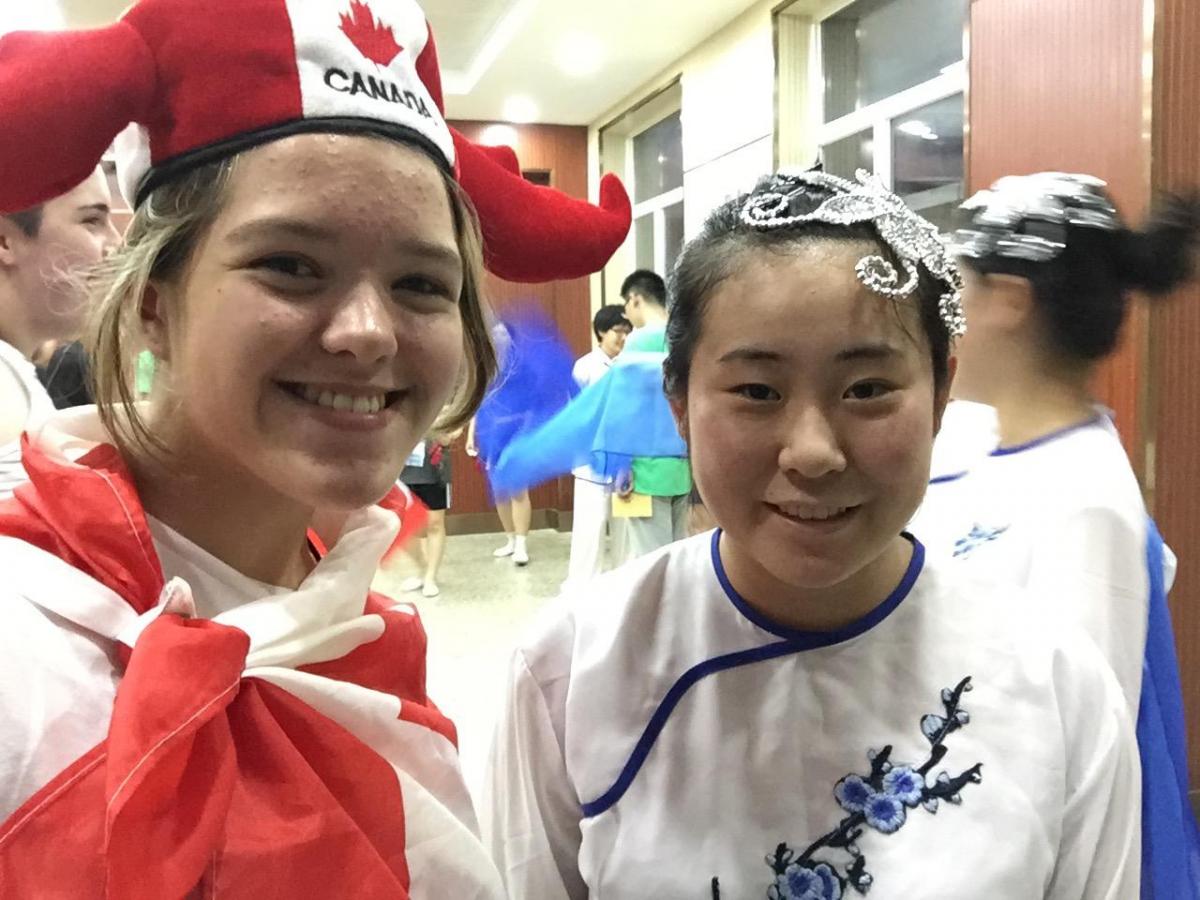 We began our performance, jumping with energy and jubilance. The judges were very impressed! They loved seeing something different and that we were all very into and enthusiastic about. We came forward to the table to hear feedback from each person. The woman asked if we had anyone who could do Kung fu, and Adom said he could do some kickflip move. He demonstrated, and the judges loved it even more. They asked us to incorporate it in the show, and that we were in.
We decided to have Adom and Faith do a cross flip across stage to the climax of Shawn Mendes "something big", as a finale. For tonight though, we were all tired and decided to leave it there. 
Afterward, I returned to the field. Some of our cake group had migrated elsewhere to play soccer, but some were circled up and played a card game called Liar. I joined in, learning the rules as I went. It was starting to get dark as one of the guys from Spain dealt out the cards to each of us. I'd never played this game and was excited to learn, as it was simple and devious.
Alas the lights flashed again to signify curfew and I bid goodnight to my fellow card game players. As I left the field I tried not to think that tomorrow was the last day, and soon every person here would be dispersed onto airplanes, scattered all over the Earth.