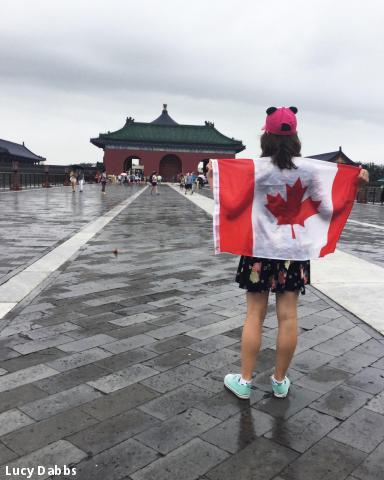 By: Lucy Dabbs, Georges P. Vanier Secondary School, participant of the 2017 Beijing International Education Exchange (BIEE) Summer Camp.
6:15 AM. I open my eyes, making out the ceiling through the dim room. I lie flat on my back, spine uncomfortably straight on the wooden board. The snores of three others gently rise and fall under thin blankets. I swivel into sitting position, thin blanket slipping off my shoulders. My bare-feet touch cold white stone floor tiles. I stand, gently move a few steps, and assume a crouching position at the charging station. A voltage converting power bar plugged into an unusual Chinese outlet, with the cords of my dorm's devices coming off like the tentacles of a jellyfish. My right hand picks up my iPod, while I push my bangs out of my face with my left hand to read the time.
I make my way to the shared shower in our room, enjoying the quiet morning before the others awake. I open the bathroom window to peek outside and a wave of humid air wafts inward, followed by the distinctly noisy melody of tropical crickets. The large beetles that sing every hour of the day swarm in the trees on campus, providing a constant chirping background whine. It truly sounds and feels like the jungle.
7:30 AM. I make my way down five flights of stairs for breakfast, my clean hair hanging wet around my shoulders. I greet others as I pass them in the hallways, making eye contact and trying to see what country is on their student card strung around their neck. I enter the brightly lit cafeteria, following others into line of the breakfast buffet. A metal tray split into portion sizes, and a pair of wooden chopsticks. Down the assembly line, scooping up various breakfast items. A large fried bun, potato wedges, steamed bok choy, and of course the classic fried rice with scrambled egg.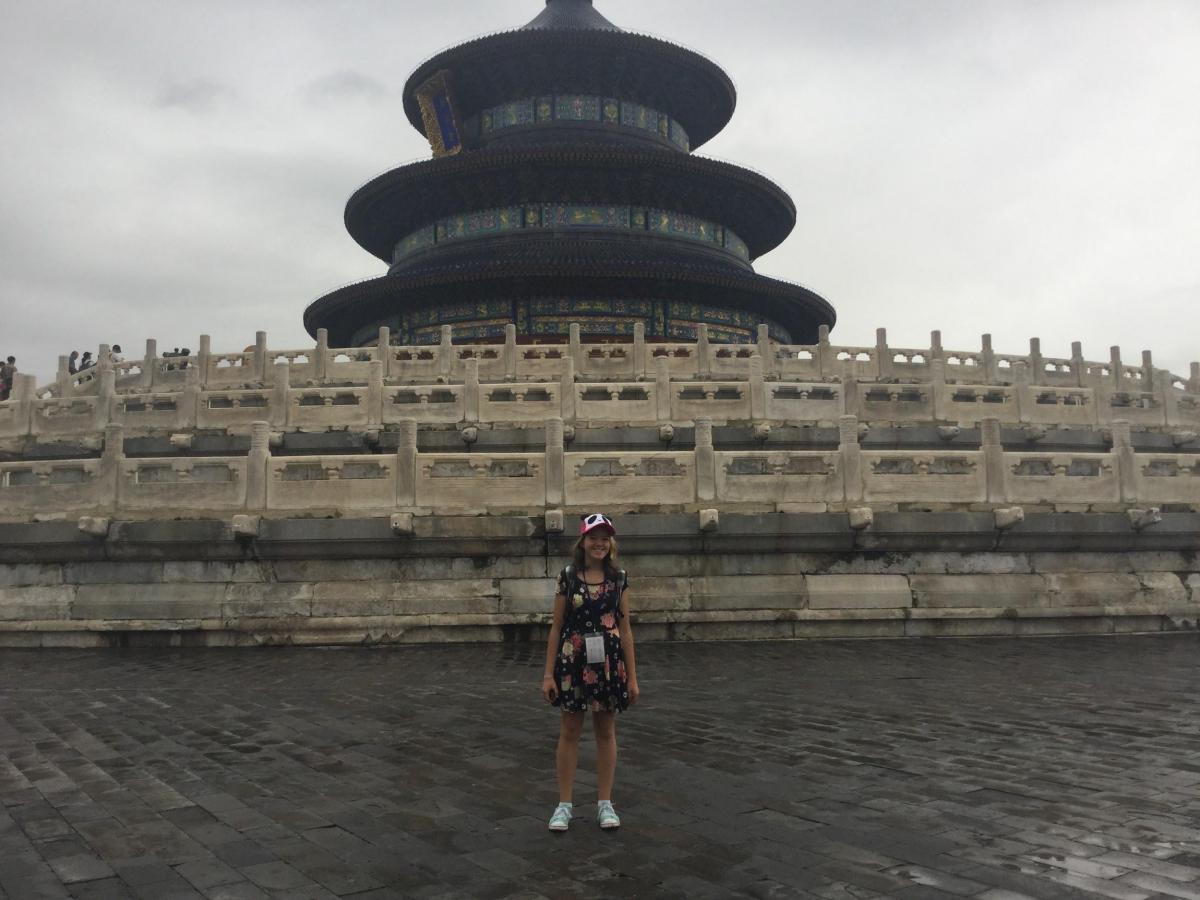 8:00AM. I join Bus 16 on the field where everyone is meeting in preparation to leave. We follow Jack and flag 16 to the fleet of buses parked at the entrance of campus. I climb the stairs onto the bus, settling in a cushy seat next to my BC friend.
"Hallo everyone. How are you this morning?" Jack's familiar voice that we had come to know and love crackles onto the speakers. He proceeds to teach us some more phrases, continuing our bus ride lessons.
"Ni hao ma?" He asks us, to which we all reply in unison "Ding ding hao."
I rest my head on my seat with fatigue, listening to Jack teach us how to count numbers on our fingers. I watch closely, and follow along with the fingers on my hand. I'm going to miss these bus rides. 
After half an hour we arrived at the Temple of Heaven. It was raining lightly, but the cool air was merely refreshing and few of us wore our ponchos from the previous day. The temple of heaven was very green and had some nice pathways through grassy gardens, remarkably reminding me of the parks in Vancouver. Here the pathway was made of ancient worn cobblestone though.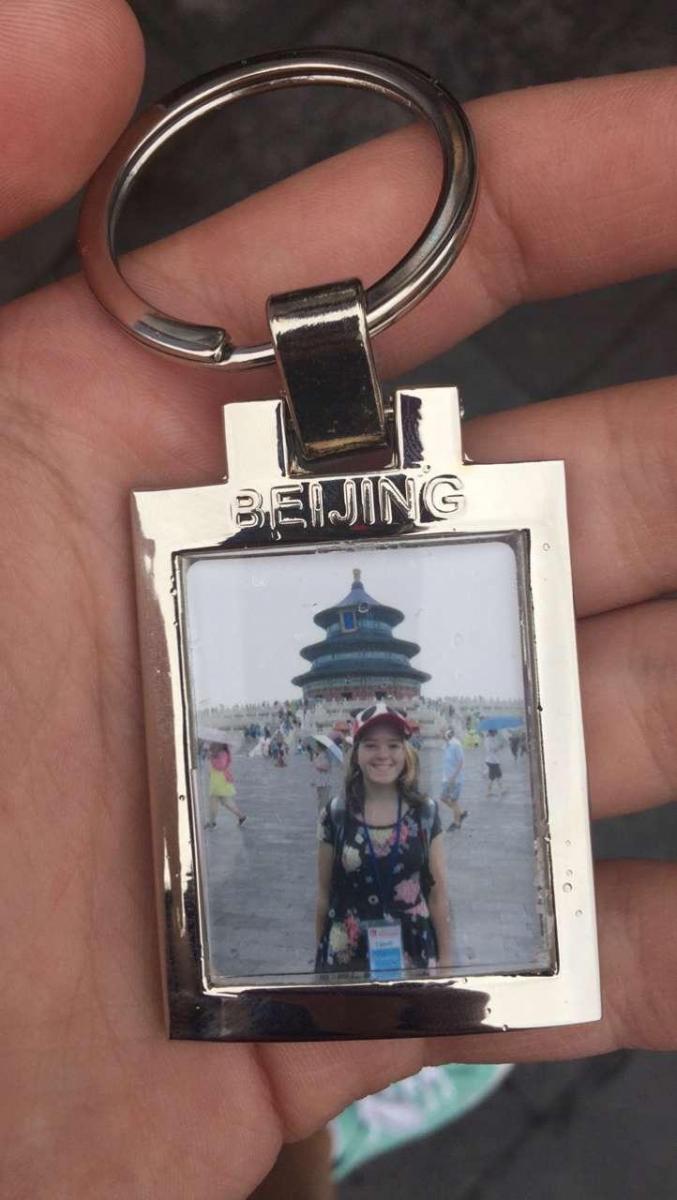 Everything in China has so much history and depth to it. Just walking on a regular joe sidewalk, and you'll learn that sidewalk was built in the 1700s by a dynasty that has been around centuries before your own Country was confederated. It was a concept we'd learned early on in our trip, that China's roots went far deeper than current day Canada as we know it.
The Temple of Heaven was a series of temples and buildings, with some roads connecting them. In one section there was a circular wall surrounding an area. Here someone could speak at one end of 
the wall and be heard all around to the other side, due to the acoustic curvature of the stone. My friend and I discovered a little souvenir stand which sold photo keychains, for only $6! We also took some nice pictures with the Canadian flag, and socialized with the other groups as we took our time touring around.
For lunch we went to a different restaurant, for a special treat of Beijing's world renowned Peking duck. We dipped cold slices of duck in a sauce that looked like barbecue sauce but tasted closer to soy sauce, and wrapped it in thin crepe like wraps with veggies. This is the most common way to eat Peking duck. It was delicious. 
Continued...